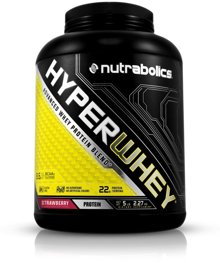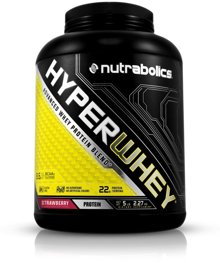 2 lb . . . 28 Servings
Delivers Rapid and Noticeable Muscle Gains

Supports Lean Muscle Mass

Increases Strength

Aids in Muscle Recovery

Provides Essential Vitamins and Minerals

to Support Overall Health

If you've been bodybuilding for any length of time, you already know the drill: Consume dietary protein ' and lots of it! That's because protein isn't just a luxury to athletes like you. It's a necessity. Search through any scientific journal and you'll find loads of information supporting this fact. As the building block of muscle, protein is the most important nutrient when it comes to strength, repair, and growth. When you go hours on end without getting adequate protein, amino acid levels in your body become drastically reduced. With less protein being shuttled to your muscles, your chances of getting bigger ' and even maintaining the size you already have ' get smaller and smaller. Clearly, this is the last thing you want!

Enter HYPERWHEY ' an advanced protein supplement that takes everyday protein powders to a whole new level! HYPERWHEY contains the purest whey isolates in proprietary amounts to help make your previous gains in size and strength look like a joke. Introduced overseas earlier this year with huge success, HYPERWHEY is now available in North America. Already, HYPERWHEY has raised the bar in its category, and tubs of this advanced formula are flying off store shelves. Regular protein powders just don't cut it anymore!

HYPERWHEY Strategy: Provide a One-Two Musclebuilding and Fat-Loss Punch

You work like a dog for the size you have. You watch everything you eat and force yourself to the gym on days when you'd rather be lying on your perfectly worked-in couch. When social events planned around fattening foods and drinks come up, you even pack your Tupperware containers with cold food to bring with you on the road. All this said, you're not an average guy looking for average results. And because this is the case, denying your body the musclebuilding protein it needs just isn't an option!

For guys like you, there's one protein supplement and one protein supplement only: HYPERWHEY!

Not only does HYPERWHEY provide a multi-staged protein blend that incorporates top-of-the-line whey protein, you also get minimal amounts of carbs and sugars. This is one of the greatest things about HYPERWHEY: While it provides you with key nutrients for musclebuilding, it also helps you with your goal of keeping your body fat stores as low as possible. If you've got your sights set on big pecs and shredded abs, HYPERWHEY can help you get them.

HYPERWHEY Tactics: Offer High-Quality Protein without the Hefty Price Tag

If we haven't hit the idea home yet, we'll say it yet again: In order to see noticeable muscle gains, you need to be digesting a steady steam of high-quality protein. In fact, sports nutritionists commonly recommend one gram of protein per pound of bodyweight each day. All this protein can get expensive, and if you're taking other supplements as well ' which you likely are ' then you can't afford to be overpaying for your protein supplement. You need one that provides superior results while fitting your budget. And that's what HYPERWHEY does.

Many other affordable proteins notoriously use low-grade ingredients in order to save a quick buck, but that's certainly not the case with HYPERWHEY. Understanding your need for a superior protein source, Nutrabolics researchers engineered HYPERWHEY using a blend of Hydrolized Whey Peptides, Cross-Flow Microfiltered Whey Isolates, and Instantized Whey Protein Concentrate. These fine-filtered proteins are known for their potency and purity, and are free of extra fat and lactose.

As cutting-edge as it is, HYPERWHEY is still available to you, the consumer, at a price that's affordable. So now there's no reason to line your kitchen cupboards with the cheap but inferior proteins powders. You can have the best of both worlds ' quality and affordability ' with HYPERWHEY.

HYPERWHEY Integrals: Pure and Easily Digested Protein

HYPERWHEY helps you meet your daily protein requirements and build rock-hard muscle with these main sources:

The most biovailable (usable by the body) of all whey proteins, Hydrolyzed Whey Peptides (HWP) are 'pre-digested' by specific enzymes, allowing for faster and improved absorption into the body. This refining process is expensive, and not all supplement companies use it. However, HYPERWHEY contains Hydrolized Whey Peptides in just the right amounts to promote faster muscle growth and improved recovery. HYPERWHEY is perfect for that window immediately following training. Its whey peptides enter the muscle cells right away to be digested immediately and to stimulate protein synthesis.



Cross-Flow Microfiltered Whey Protein Isolate

While some supplement companies rely on the inferior Ion Exchange process to separate various milk proteins, Nutrabolics invested in a higher quality system known as Cross-Flow Microfiltration when formulating HYPERWHEY. Unlike Ion Exchange, Cross-Flow Microfiltration is chemical-free and uses natural ceramic filters to isolate whey proteins from undesirable components like lactose, cholesterol, and fat. The result is an overall better amino acid profile, with the highest level of un-denatured protein available. You also get the purest, most fast-acting, and most digestible whey protein possible.



Ultrafiltered High-Quality Instantized Whey Protein Concentrate

HYPERWHEY's use of 'instantized' whey protein means its smooth, delicious powder disperses quickly and easily in cold water or skim milk. Its highly soluble, clump-free formula can be enjoyed anywhere ' without the use of a blender. Gone are the days of grudgingly getting in your protein. You'll gladly mix up a serving of HYPERWHEY because it satisfies both your need for muscle growth and your desire for great taste.
Suggested Use:
Add one scoop of HYPERWHEY (32 g) to 8 oz – 10 oz / 250 mL – 300 mL of cold water or milk, and shake for a few seconds. Vary the amount of liquid to achieve desired flavor and consistency. Drink 1 – 3 servings daily or as needed to satisfy your protein or muscle-building requirements. For best results, combine with a diet and exercise program.
*These statements have not been evaluated by the Food and Drug Administration. This product is not intended to diagnose, treat, cure, or prevent any disease.