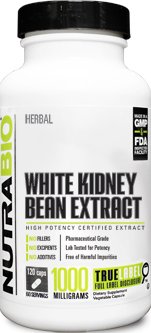 NutraBio White Kidney Bean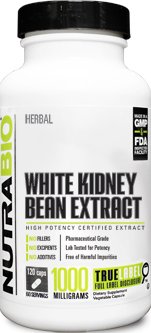 NutraBio White Kidney Bean
Benefits:
Stimulant Free
Pure Phaseolus vulgaris extract.
500 mg of pure extract per Capsule.
White Kidney Bean is a legume that gets its name from its kidney shape. Kidney beans are part of a group of beans that are known scientifically as Phaseolus vulgaris. They are often referred to as common beans since it is believed that all of them are derived from a common bean ancestor that originated in Peru. An herbaceous, annual plant, white kidney beans are now grown worldwide.
White Kidney Bean Extract is an all-natural supplement derived from an extract white kidney beans that may help delay the digestion and absorption of carbohydrates.* White Kidney Bean helps carbohydrates to maintain their full length, causing better utilization of carbohydrates for immediate energy.* By utilizing carbohydrates for immediate energy needs, the body will store less for later use. White Kidney Bean may help support healthy weight loss when combined with regular exercise and a healthy diet.*