Quick Links to Our Prices Price History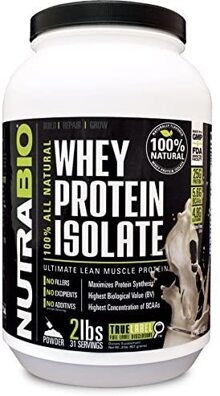 NutraBio Whey Protein Isolate Natural
Product Highlights
Fast acting to support repair and recovery
Sweetened with natural Stevia
Over 5g BCAAs and 4g Glutamine Precursors/serving
NON-GMO and zero fillers or excipients
Zero soy, lactose, gluten, or hormones
100% transparent label
110 calories/serving
25G protein/serving
0g Fat/serving
1g carbs/serving
NutraBio Whey Protein Isolate is another great product from their extensive line us high quality supplements that packs all you need in a protein. Featuring 25 of complete protein per serving, 0g fat and only 1g of carbs per serving, it is the perfect choice for anyone looking to keep their protein as clean as possible. Furthermore, it contains no whey concentrates, added carbs/sugars, no creamers or other fillers and is cross-filtered at a low temperature to ensure it is non-denatured. Other whey proteins may be 'watered down' with cheaper proteins such as acid treated whey, ion exchanged whey or have cheaper whey protein concentrates mixed in. This ensures that you are getting what you pay for every time while leaving nothing to chance.
NutraBio Whey Protein Isolate has a biological value of 159, protein digestibility of 95, a protein efficiency Ratio of 3.6, net protein utilization of 92, and a perfect 1.0 PDCAAS (Protein Digestibility Corrected Amino Acid Score). Further adding to this protein powerhouse is a rich BCAA/EAA profile for promoting an optimal state of nitrogen retention, protein synthesis and muscle growth. Last but not least, NutraBio Whey Protein Isolate contains 18% GMP (glycomacropeptides), which has been shown to have a beneficial role in helping to control some gastrointestinal diseases and disorders.
Manufacturer's Directions:
Add 1 scoop (25 grams of protein) and 8 ounces of cold water, milk or your favorite beverage to a shaker cup or blender and mix for 25-30 seconds. Vary the amount of liquid to meet your desired taste and consistency. Drink 1-4 servings daily as needed to satisfy your protein requirements. Using nonfat milk instead of water will give you a thicker, creamier shake.
Supplement Facts
Q & A
Q: "In looking at the label, its missing 16 calories from somewhere and its unaccounted for. 25g of protein x4= 100. 1g of carb =4 calories. This totals 104 calories. No fat is listed on the label anywhere. So where does the extra 16 calories come from? If it is fat (that can be ok, provided they were honest with the label), it would be roughly 2.1g of fat per serving. Please get NutraBio to update labels to accurately reflect the product."
A:Thank you for bringing your label concern to our attention. We have audited all 4 labels of our All Natural Whey Protein Isolate and the results are below.
Upon completion of the audit our Vanilla, Chocolate and unflavored labels were shown to be accurate. There were 2 errors on the Horchata label caused by a miscalculation of the sugar alcohols in xylitol. The corrected total calories are 112.68 and carbs is 2.98g which will be expressed on the label as 110 kcal and 3g respectively. Fats, protein, serving's size, etc. were all reflected properly on the label. Thank you for bringing this to our attention. The website has already been corrected and within 48 hours, corrections customers will be notified. Labels have been changed for all new production so you can return current stock for replacement.
The final values will still not match your customer's calculations and here's why. When calculating the total calories from a supplement facts panel; you must take into consideration the FDA's labeling regulations for expressing rounded numbers on the label. These regs will greatly influence the results of your calculations. As you will see in the example below, the FDA requires us to express rounded values for macros on the label. Using your question as an example; the calories originally were calculated at 115.2, which the FDA required us to list at 120 on the label. So there was a 5 calorie difference between actual calories and reported calories due to the regs.
Using our WPI Natural Chocolate as an example, the actual calories were 114.9, which the FDA requires us to express as 110 on the label, while your customer's calculation would have yielded 117. A breakdown of this is shown below. So 3 different values for total calories will exist: the actual (based on the formula), the FDA's required expression (based on rounding), and your customer's calculation. In addition sugar alcohol and fiber are not calculated using the standard carb formula of 4 kCal/g so that will skew your values as well.
Here are the FDA's regulations for expressing values on supplement facts panels.

Total Calories: Expressed to the nearest 5-calorie increment up to 50 calories; 10 calorie increment over 50 calories. Less than 5 calories may be expressed as zero.

Total Carbs: Expressed to the nearest gram increment. Less than 1 gram, expressed as
Total Fat: Expressed to the nearest 0.5 gram increment below 5 grams; nearest gram increment above 5 grams. Less than 0.5 grams shall be expressed as zero.

Protein: Expressed to the nearest gram. Less than 1 gram, may be expressed as
Audit results:Horchata Flavor
Fat: 0.34g yields 3.06 calories. Label claim expressed as zero.
Protein: 25.02g yields 100.08 calories. Label claim expressed as 25 G
Carbs: 2.98g yields 9.53* calories. Label claim expressed as 3 G.
Total Calories: 112.68. Label claim expressed as 110 kcal
*(note 1.49g carbs from xylitol yielding 2.4kCal/g)

Chocolate Flavor
Fat: 0.64g yields 5.79 calories. Label claim expressed as 1g.
Protein: 25.10g yields 100.4 calories. Label claim expressed as 25 G
Carbs: 2.19g yields 8.76 calories. Label claim expressed as 2 G.
Total Calories: 114.92. Label claim expressed as 110 kcal

For the Vanilla Flavor
Fat: 0.34g yields 3.06 calories. Label claim expressed as 0g.
Protein: 25.02g yields 100.08 calories. Label claim expressed as 25 G
Carbs: 1.23g yields 4.92 calories. Label claim expressed as 1 G.
Total Calories: 108.06. Label claim expressed as 110 kcal

Unflavored
Fat: 0.34g yields 3.06 calories. Label claim expressed as 0g.
Protein: 25g yields 100 calories. Label claim expressed as 25 G
Carbs: 0.63g yields 2.52 calories. Label claim expressed as 1 G.
Total Calories: 105.58. Label claim expressed as 110 kcal