Quick Links to Best Prices Price History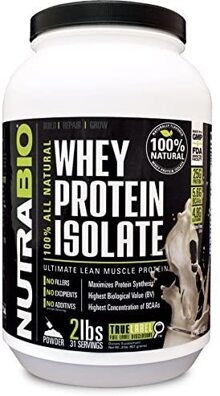 NutraBio Whey Protein Isolate Natural
The Purest, Most Effective Whey Isolate - Period!
• 100% Transparent Labeling – Every Ingredient Is Detailed
• 25 Grams of Whey Isolate per Serving
• 5+ Grams BCAAs and 4 Grams Glutamine per Serving
• Stimulates Protein Synthesis
• Fast Digesting – Jumpstarts Recovery
• Highest Biological Value (BV) Protein Available
• NO Soy, Lactose, Gluten, or Hormones
Whey Protein has a well-earned reputation as the highest quality protein on the market. As a fast digesting protein it's ideal for recovery and muscle growth. There are, however, different types of whey; the most common types being Whey Protein Isolate and Whey Protein Concentrate. Whey Protein Isolate is 90% protein by weight and it's the purest, highest quality type of whey you can buy. On the other hand, Whey Protein Concentrate is on average about 79% protein with more fat, cholesterol and lactose.

100% WHEY ISOLATE – THAT'S IT!

In this day and age, the market is flooded with proteins that carry a lot of hype and little else. Many of these brands are loaded with cheap ingredients hidden behind proprietary blends and deceptive labels – you really have no idea what you are paying for!

100% Whey Protein Isolate by NutraBio contains 100% Whey Protein Isolate only! This is without question the cleanest, purest, highest quality protein you can buy. You will not find any whey concentrate or other proteins, maltodextrin, dextrose, creamer or fillers of any kind in this product. Our 100% Whey Isolate is completely fat free, lactose free, cholesterol free, gluten free, BSE/TSE free, filler free, excipient profile free, non-denatured and kosher. How's that for an ultra-clean protein? NutraBio has a reputation for unmatched quality and unheard of label transparency – we do not hide cheap ingredients in a "proprietary blend". Our labels disclose absolutely every single ingredient along with the precise dosage of each.

IF YOU WANT THE BEST PROTEIN, YOU MUST USE THE BEST INGREDIENTS!

100% Whey Protein Isolate (WPI) provides 25 grams of protein per scoop along with over 5 grams of BCAAs, 4 grams of Glutamine and a full-spectrum amino acid profile that promotes optimal nitrogen retention and protein synthesis that speeds recovery and promotes muscle growth.

It's 100% pure, non-denatured, non-acid treated whey isolate with a Biological Value of 159, Protein Digestibility of 95, Protein Efficiency Ratio of 3.6, Net Protein Utilization of 92, and a perfect 1.0 PDCAAS (Protein Digestibility Corrected Amino Acid Score).

There's no need to shop around, you couldn't find a better protein if you wanted to. This is the best whey isolate on the market, period! 100% Whey Protein Isolate by NutraBio – Step Up To Suerpior Quality!

Supplement Facts
Serving Size: 1 Scoop (28.9 Grams)
Servings Per Container: 31.3

Amount Per Serving

Calories - 110
Total Fat - 0.5 Grams
Cholesterol - Total Carbohydrate - 2 Grams
Dietary Fiber - Protein - 25 Grams
Calcium - 135 mg
Phosphorus - 62 mg
Magnesium - 22 mg
Sodium - 52 mg
Potassium - 150 mg

Whey Protein Isolate - 28.19 Grams
CFM cross flow micro and ultra-filtered WPI90. Cold processed. Instantized with sunflower lecithin

Flavoring - natural vanilla flavor 400 mg, xanthan gum 350 mg, sucralose 35 mg

Other Ingredients:
Absolutely None.

Directions
Mix 1 scoop with 8oz.cold water, milk or your favorite beverage and consume 1-3 servings daily as needed to help meet your protein requirements.

Warnings
Discuss with your physician before taking if you have a medical condition or are taking any prescription medications. Stop use and discuss with your physician if any negative effects occur. Do not exceed suggested dose. Do not take if pregnant or lactating. Must be 18 years old to use this product.  Keep away from children. Do not use if seal has been tampered with. Store in a cool, dry place.