Quick Links to Best Prices Price History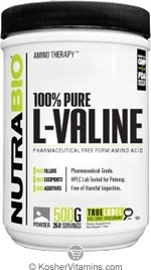 NutraBio Kosher L-Valine Free Form 450 Mg Description:


• Stimulates muscle protein synthesis.
• Works as fuel for muscle building reactions.
• Helps maintain nitrogen balance.

L-Valine is an essential amino acid, specifically classified as a branched-chain amino acid (BCAA). BCAA's, which include valine as well as leucine and isoleucine, stimulate protein synthesis directly in muscle tissue. Valine works in the body as a fuel involved muscle-tissue building reactions, and stimulates muscle protein synthesis. Valine helps optimize the body's metabolism, providing energy and assistance with the repair and growth of damaged tissues. It has a stimulating effect and is needed for muscle metabolism, repair and growth of tissue and maintaining the nitrogen balance in the body.
Disclaimer:
These statements have not been evaluated by the Food and Drug Administration.This product is not intended to diagnose, treat, cure, or preventany disease.