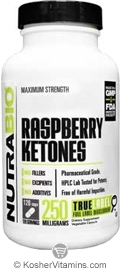 NutraBio Raspberry Ketones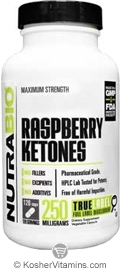 NutraBio Raspberry Ketones
NutraBio Kosher Pure Raspberry Ketone 250 Mg Description:


• Amazing New Diet and Weight Loss Solution.
• Burns Fat and Promotes Healthy Living.
• Supports Increased Metabolism and Reduction of Body Fat.
• Stimulant Free without the side effects associated with most diet pills.
• Kosher, Vegetarian, Hypoallergenic, Non-GMO, Gluten Free, BSE Free and Non-Irradiated.
• 100mg of Pure Raspberry Ketones per vegetable capsule.
• Absolutely No Fillers or Additives.

Raspberry Ketone, a natural weight loss supplement, has become very popular due to intense media coverage recently. Raspberry ketones increase the secretion of adiponectin, which is known to support energy metabolism and fat loss. It's thought that raspberry ketones may influence lipolysis, the process of breaking down fat in the body.

Raspberry Ketone, also known as 4-(4hydroxyphenyl) buta-2-one, is a ketone unique to raspberry which appears to have the potential to support body fat reduction in two ways. First, decreasing the absorption of dietary fat and secondly, increasing norepinephrine-induced lipolysis. Importantly, research suggests that in the reduction of absorption of dietary fat, the inhibition of trioleoylglycerol hydrolysis plays a major role. Further research advocates that enhancing lipolysis may augment glycerol release, increasing brown adipose tissue, known to increase thermogenesis and oxidation of body fat. EGCG from Green Tea helps to also boost metabolism, burn fat & calories.

Raspberry Ketones, also known as 4-(4-hydroxyphenyl) butan-2-one, contain many bioactive constituents beneficial for health. One particular constituent, 4-(4-hydroxyphenyl) butan-2-one appears to have the potential to support body fat reduction. In a recent study (Morimoto et al, 2005), test subjects were fed a high fat diet to induce obesity while treated groups were also fed an additional 1 or 2% Raspberry Ketone. The treated groups gained less body fat than the control groups.

Pure Raspberry Ketones by NutraBio contains 100 mg of stimulant free raspberry ketones extract in each vegetable capsule with absolutely no additives, fillers or excipients. Just one capsule contains more raspberry ketones than a large bowl of fresh raspberries.

Raspberry ketones is a compound in red raspberries that gives the fruit its aroma and is used widely in the US as a food fragrance and flavoring. In Japan, raspberry ketones have become a popular ingredient in weight management supplements. Preliminary (animal) research has shown some positive results for weight loss, but further investigation is necessary to confirm the effects.

As with any weight management program, Raspberry Ketone should be used in conjunction with proper nutrition and exercise.
Disclaimer:
These statements have not been evaluated by the Food and Drug Administration. This product is not intended to diagnose, treat, cure, or prevent any disease.