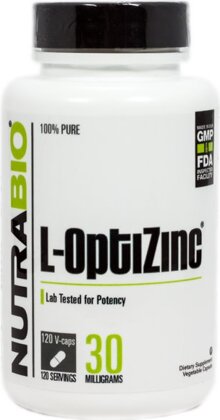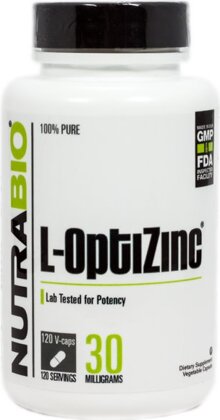 NutraBio Kosher L-Optizinc 30 Mg Description:


- Supports healthy protein and DNA synthesis.*
- Involved in healthy insulin production.*
- Supports a healthy immune system.*
- Provides antioxidant protection. *
- Features a patented, premium form of zinc that's highly bioavailable.

NutraBio L-OptiZinc is a unique, patented form of zinc, which consists of the mineral zinc bound to the natural and more bioavailable L form of the amino acid methionine.

What is L-OptiZinc?

Zinc deficiency in the elderly can often accompany age-related immune decline, and the elderly represent a group that is vulnerable to mild zinc deficiency.*

Zinc is necessary for proper reproduction, growth and development. It's required for the function of approximately 300 enzymes in the body, which are substances that promote biochemical reactions in your body. Zinc plays a part in numerous body processes including proper immune function, eye health and regulation of appetite, taste and smell and supports prostate tissue health, sperm motility and testosterone metabolism.

Zinc is also an antioxidant, meaning it helps protect healthy cells from the potentially damaging effects of free radicals. Free radicals are unstable molecules that attack healthy cells, damaging their structure and DNA. They're believed to contribute to the aging process. Antioxidants, such as zinc, neutralize free radicals, helping to protect healthy cells. Zinc is necessary for the formation of superoxide dismutase (SOD), which is an important free radical scavenger in the body
Disclaimer:
These statements have not been evaluated by the Food and Drug Administration. This product is not intended to diagnose, treat, cure, or prevent any disease.