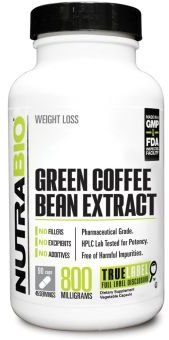 NutraBio Green Coffee Bean Extract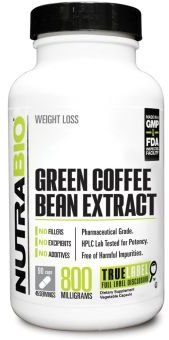 NutraBio Green Coffee Bean Extract
NutraBio Kosher Green Coffee Bean Extract 800 Mg Description:


Benefits of NutraBio Green Coffee Bean Extract (800mg):
• Helps lower absorption of glucose.
• Helps support fat metabolism.
• 100% Pure Green Coffee with no preservatives, filler or additives.
• Stimulant free without the side effects associated with most diet pills.

Standardized to 50% Chlorogenic Acid

NutraBio's Pure Green Coffee Bean Extract is made from the freshest, highest-quality green coffee beans and is standardized to contain 50% Cholorgenic Acid, the active ingredient needed for weight loss.

We use only fresh green coffee beans that have not been roasted like the brown beans used for the coffee we drink. Roasting beans brings out the flavor but destroys the chlorogenic acid. NutraBio uses only 100% pure Green Coffee Beans containing the highest levels of Chlorogenic Acid which may help lower the absorption of glucose into the body and support the activation of fat metabolism in the liver.
Disclaimer:
These statements have not been evaluated by the Food and Drug Administration. This product is not intended to diagnose, treat, cure, or prevent any disease.