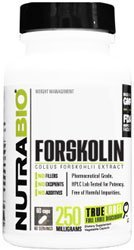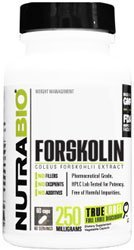 NutraBio Kosher Forskolin 250 Mg Description:


Benefits of NutraBio Forskolin 250 mg:
• Clinically proven to produce positive changes in body composition.*
• Promotes the breakdown of stored fats.*
• May help maintain blood pressure levels already within normal range.*
• Supplies 250 mg of Forskohlin per capsule.
• Pharmaceutical grade. No fillers or excipients.

Coleus Forskohlii is a plant that contains the natural extract Forskolin known to promote lean body mass. Traditionally, it's been used in Ayurvedic medicine to promote weight management and cardiovascular health. Coleus Forskohlii is the only known plant source of forskohlin, a diterpene that acts directly on adenylate cyclase. Adenylate cyclase is an enzyme that activates Cyclic Adenosine Monophosphate (cAMP) which promotes the breakdown of stored fats.*

The extract is derived from the Coleus forskohlii plant, a member of the mint family, native to subtropical and temperate regions throughout the world.
Disclaimer:
These statements have not been evaluated by the Food and Drug Administration. This product is not intended to diagnose, treat, cure, or prevent any disease.