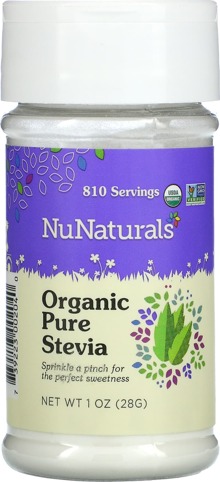 NuNaturals NuStevia Organic Pure Stevia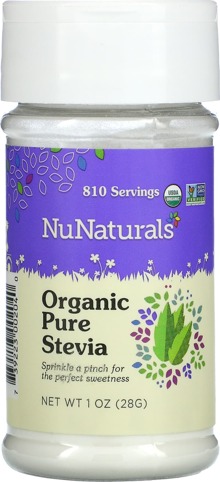 NuNaturals NuStevia Organic Pure Stevia
NuNaturals - NuStevia Organic Pure Stevia - 1 oz. (28 g)
NuNaturals NuStevia Organic Pure Stevia is the best sugar substitute. Being a sugar free, natural, premium-grade, zero calorie sweetener is perhaps impressive enough for many, but not for NuNaturals. NuStevia Organic is all of that plus the best, bitter-free taste that is rated over twice as sweet as other brands.
Easily dissolves - No excessive stirring, heating, or crunching through stubborn sugar granules. NuStevia Organic natural sugar substitute dissolves instantly in hot/cold beverages or foods. Also includes a small serving spoon inside the 1 oz jar.
About NuNaturals
NuNaturals is a family owned and operated company that has been providing delicious, healthy products for almost 30 years. Their mission is to offer joyful products that help keep you well and to grow "sweet" relationships with their customers, employees, stakeholders, and community.
NuNaturals was founded November 9th, 1989 by Warren Sablosky in beautiful Eugene, Oregon. Growing up in suburban Philadelphia, Warren was always ahead of the times. He became a vegetarian in high school (but re-introduced meat later in life). During this time he was making homemade tofu in his parent's kitchen because there was none to buy in his area. He left Villanova after completing 2 terms to drive across the country out West. He eventually settled in Eugene to attend the University of Oregon.
Eugene was everything he expected it to be. A place far ahead of the country in terms of natural living, sustainability, and cultural change. After graduating from U of O, Warren's first product was called "Earth Ice," which he made with his wife Paula. They sold the fruit popsicles made from pure fresh fruit, one of the first companies to do it at the time. The company also developed french fries made from soy and rice called Soy Fries. He went on to self-publish a pizza cookbook and work in several Eugene-based natural products companies before finally founding NuNaturals.

NuNaturals was started with the mission of "Helping to Keep You Well." The company's first product was "The Mental Energy Formula," a nutritional supplement that NuNaturals still sells today. When Warren learned about a sweet herb native to South American called Stevia that was an alternative to sugar, he knew that it could greatly help people in the United States struggling with the problems that come from sugar.
Since then, NuNaturals has continued with its mission of "Helping to Keep You Well" by offering healthy products that make you smile. Today, Warren and Paula are joined by their son Jake, and a group of smiling team members who have become a part of the NuNaturals family. NuNaturals believes that the path to wellness starts with the food and supplements that we consume. And that is why today NuNaturals offers a wide selection of all natural, plant-based sweeteners, baking ingredients, and dietary supplements.