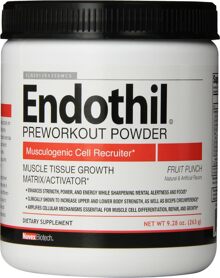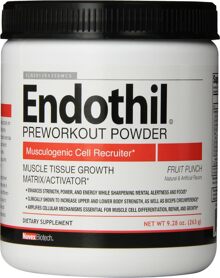 ROCKET POWER
Meets Rocket Science.
Just Sayin'
The harder you work, the hard it works. Novex Biotech's Endothil™ Preworkout Power goes beyond the ordinary... A unique combination of pump-amplifying ingredients and a military-tested functional compound work together to elevate energy and maximize power output for explosive strength.* Ignite your mental and physical intensity and push forward.
ENDOTHIL PREWORKOUT POWDER
MUSCULOGENIC CELL RECRUITER*
ALWAYS KEEP YOUR BEST WEAPONS SECRET
What exactly is a muscle tissue growth matrix/activator?
During an independent, double-blind, 6-week bodybuilding study on 31 fit males, the functional compound in Endothil significantly increased upper and lower body strength after concentrated exercise (as measured by the amount of weight participants could bench press and leg press).* Biceps circumference also increased significantly over the placebo group, who were on the same bodybuilding program.*
This discovery led to Endothil... a unique and tested method for muscle size and strength beyond what is acquired through the normal recruitment and differentiation of progenitor muscle cells.*
Enhances strength, power, and energy while sharpening mental alertness and focus*
Clinically suggested to help increase upper and lower body strength, as well as biceps circumference*
Amplifies cellular mechanisms essential for muscle cell differentiation, repair, and growth*
©2013 All Rights Reserved