Quick Links to Best Prices Price History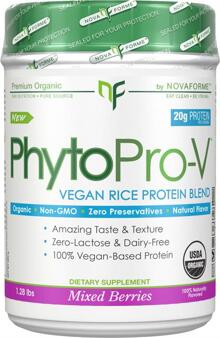 Post-Training Recovery Protein
Organic & Vegan Protein
100% Dairy and Soy Free
Sweetened with Organic Stevia
Gluten Free
Non-GMO
100% Pure Organic Protein
PhytoPro Organic Protein
PhytoPro-V from NovaForme is a pure blend of organic, sprouted, raw-source vegan proteins with a complete amino acid spectrum delivering all Essential, Branched Chain and Non-Essential Amino Acids. PhytoPro-V delivers everything you want and nothing you don't - free of common protein allergens such as dairy, soy, egg and wheat to ensure a clean, complete and highly-digestible protein blend that has exceptionally high levels of absorption.
Pure Natural Organic Protein
Organic is the name of the game and we've got it in spades. Top to bottom, certified organic ingredients means that you can get your full-spectrum 100% complete protein with the highest levels of digestibility while feeling great about the source. Non-GM0, No Soy, Zero Dairy (perfect for those who are lactose intolerant), and best of all, sweetened exclusively with the purest extract of Stevia Root.
What does "Complete" Mean?
PhytoPro-V provides a full spectrum of amino acids, uncommon in plant proteins. Most plant-based proteins are typically considered "incomplete".