Warning: This product is not currently available at any store.
Click the button above and PricePlow will email you when the first store has it in stock!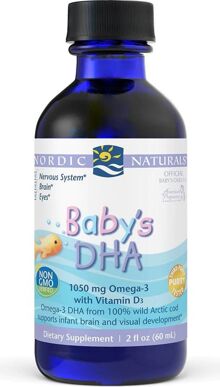 Nordic Naturals DHA Infant
The brain grows at an incredible rate during the first few years of life - in the first year alone, it more than doubles its size. During this pivotal period, adequate intake of the omega-3 essential fatty acid DHA is essential. DHA is the primary building block of brain tissue, and is required for healthy brain development, as well as for the eyes, and nervous and immune systems.* Nordic Naturals Infant DHA is a safe, effective way to ensure babies get the DHA they need. With the measured dropper, Baby's DHA can easily be added to formula or food. Serving Size 1-4 mL Contains Vitamin A 1200-2360 I.U. Contains vitamin E derived from refined soybean oil. Other Ingredients purified arctic cod liver oil, d-alpha tocopherol, rosemary extract, vitamin D3 (cholecalciferol in olive oil). Suggested Use 1-4 milliliters daily, with food, or as directed by your health care professional or pharmacist. Clean pipette thoroughly between each use. To preserve freshness do not depress bulb in oil. Does Not Contain No gluten, milk derivatives, or artificial colors or flavors. Warnings/Cautions Do not take if tamper-evident seal is broken or missing. Best if used within 3 months after opening. Pharmaceutical Grade. Molecularly Distilled. Refrigerate after opening. Keep out of the reach of children. Supplement Facts Serving Size is 1-4 mL Amount Per Serving %DV Calories 36- * Calories From Fat 36- * Vitamin D3 250IU * Vitamin E 5IU * Total Omega-3s 1008mg * EPA (Eicosapentaenoic Acid) 328mg * DHA (Docosahexaenoic Acid) 500mg * Other Omega-3s 180mg * Oleic Acid (Omega-9) 480mg * *Daily Value (DV) not established.