Quick Links to Our Prices
How does this work and how do stores get listed? See our disclosure below to learn more. Price History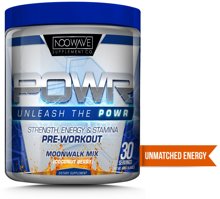 ENTER THE GYM WITH CONFIDENCE & PURPOSE - The secret to POWR's delivery of confidence is the inclusion of several cutting edge ingredients, most notably the stimulant DMHA and various other nootropic compounds. When delivered in the right dosages in the right combinations, like is POWR, you will experience an unparalleled sense of confidence while training, which carries over without keeping you up for hours on end, or worse yet, leaving you with a crash.

EUPHORIC MOOD - This formula contains 150mg of Eria Jarensis Extract which provides mood boosting effects due to its ability to increase levels of dopamine and noradrenaline in the body. Dopamine is the hormone responsible for increased feelings of wellbeing, hence Eria Jarensis Extract provides quite a pleasant euphoric effect, while also reducing feelings of anxiety.

INCREASED POWER OUTPUT - 3.2g of Beta Alanine and 2.5g of Betaine Anhydrous help to buffer lactic acid build up in muscle tissue and increase power output. Enabling you to get more reps at a higher capacity.

INCREASED STRENGTH - Dosed with 5g Creatine Monohydrate, this allows your muscles to contract with more power for an increased number of repetitions, increasing your anaerobic exercise capacity.

VOLUMIZING PUMPS - Although there are no direct nitric oxide boosting ingredients in this formula, there are several hydrating ingredients such as Raw Coconut Water Concentrate that help to facilitate a pump. PLUS, you will be going so hard in the gym with this formula that the pump will be hard to avoid.
More