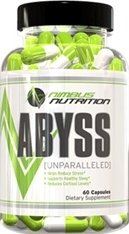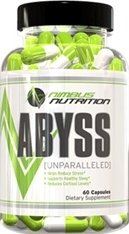 Nimbus Nutrition Abyss Unparalleled
UN∙PAR∙AL∙LELED [UN PÁRRƏ LÈLD] ADJ. HAVING NO EQUAL; NOT EQUALED, MATCHED, OR PARALLELED IN KIND OR QUALITY.
EXPECT TO FALL ASLEEP FASTER, FEEL BETTER, SLEEP BETTER, AND LIVE BETTER, THANKS TO ABYSS UNPARALLELED!*
What Can you Expect from Abyss Unparalleled?
Improved Ability to Fall Asleep

Increased Sleep Quality - REM Sleep
Reduction in Cortisol Levels
Increased Energy Throughout the Day - Reduced Fatigue
Improved Ability to Cope with Stress - Takes the Edge Off
Improved Sense of Well-Being
*These statements have not been evaluated by the food and drug administration. Abyss Unparalleled is not intended to diagnose, treat, cure, or prevent any disease.
Ingredient Highlights:
SeditolSeditol is a patented, proprietary blend of Magnolia officinalis bark and Ziziphus spinosa seed. In an open label trial,participants using Seditol alone experienced an increase in sleepfulness (83%), an increase in relaxation (87%), and a reduction in fatigue (83%) the following day as a result of being able to fall asleep faster, sleep deeper, and overall reduce stress.Ziziphus spinosa seed and Magnolia officinalis have been utilized in Traditional Chinese Medicine (TCM) for the treatment of anxiety, nervousness and insomnia for its relaxing and sedative properties. This proprietary blend has been shown in preclinical research to interact with receptors for dopamine, serotonin, adenosine, and GABA that are associated with and responsible for mood, anxiety, and sleep.BIOPERINEBioperine is an extract obtained from the black pepper fruit that is cultivated in the damp, nutrient-rich soil regions of southern India. The delicate pepper berries are berries harvested just prior to ripening and sun dried to assure optimum maturity and quality. The extract of piperine, known as Bioperine in the patented form, has been clinically tested in the United States. Bioperine significantly enhances the bioavailability of various supplement nutrients through increased absorption. Specifically in Abyss Unparalleled, BioPerine has been shown to increase the absorption of Sensoril, Magnesium, Zinc, and B-Vitamins to amplify the effectiveness of these key ingredients.SENSORILREVERED AYURVEDIC MEDICINAL BOTANICALAshwagandha (Withania Somnifera) is an Ayurvedic medical botanical grown in India and is revered for the multiple, health-providing benefits of powders and extracts made from its roots and leaves. It's been used in Ayurvedic medicine as a daily tonic to help treat such psychological and physical ailments including stress, strain, fatigue, cognitive function, exercise recovery, inflammation, immune health, blood sugar balance, and cardiovascular health. In the past decade its use as a dietary supplement has become increasingly popular particularly in the areas of stress reduction, energy, and mental cognition. Its adaptogenic properties help the body cope with stress and fatigue, providing the user with an increased sense of well being and resistance to fatigue throughout the day. Additionally, it has been shown in users to increase memory, reduce anxiety, reduce stress, reduce weight, provide a more restful sleep, and an increase in energy throughout the day.ASHWAGANDHA POSSESSES ADAPTOGENIC PROPERTIESAshwagandha's health-enhancing benefits stem from its adaptogenic properties. Adaptogens are a small group of botanical and mushroom species that help increase resistance to physical, chemical, and psychological stressors while enhancing balance and homeostasis in the body. Adaptogens, which are not stimulants, are notable for providing superior wellness benefits without side effects. This is in marked contrast to stimulants (like caffeine) which are well known to cause side effects that range from nervousness and jitters, to heart palpitations and more severe physiological problems.THE SECRET BEHIND ASHWAGANDHA'S HEALTH BENEFITS IS ITS ABILITY TO REDUCE CORTISOL LEVELSAshwagandha's many health benefits result from powerful bioactive compounds called glycowithanolides that help reduce cortisol levels in the body. When the body is stressed, the adrenal glands increase secretion of cortisol, which is the stress hormone associated with the "fight or flight" response. Cortisol produces many negative consequences in the body including feelings of anxiety, fatigue, poor memory/concentration, sleeplessness, and weight gain. The glycowithanolide bioactives in Ashwagandha are a type of steroidal lactone that mimics the body's own stress-reducing hormones whose role is to reduce cortisol levels in order to bring the body back into a balanced state. By reducing cortisol, Ashwagandha can help provide multiple health benefits that counteract cortisol's deleterious effects.MELATONINMelatonin is a naturally occurring hormone which is secreted by the pineal gland, and helps to regulate our sleep-wake cycle via our circadian rhythm. This hormone is used by the body to help us fall asleep and hence why supplementation with melatonin is so popular. In our current culture and society, we are glued to cell phones, tv screens, computer screens, all of which can decrease the level of melatonin in our brain. Therefore, this addition will help increase levels of melatonin (allowing you to fall asleep faster), improve circadian rhythm (which increases sleep quality), improve mood, and reduce sleep inconsistencies.GAMMA-AMINOBUTYRIC ACIDGABA is an inhibitory neurotransmitter that acts on pre and post-synaptic neurons. Avoiding the in--depth mechanisms of action explanation and pharmacology of GABA, users will receive a relaxing, anti-anxiety, and anti-convulsive effects.L-THEANINEThis amino acid has proven to increase the amount of alpha waves present during sleep, thereby increasing REM sleep and improving the overall quality of the cycle.5-HTP (5-HYDROXYTRYPTOPHAN)Research has shown that 5-htp acts as a precursor to serotonin in the brain. As a result, it has been demonstrated to be beneficial in cases of anxiety and insomnia. Therefore, it will provide the user with a calming effect that will in turn reduce stress and improve the user's ability to fall asleep.ZINC, MAGNESIUM AND B-VITAMINSThese three minerals and vitamins are essential for the performance of biological processes in the body. A high percentage of people do not meet the recommended levels of these key ingredients that play a role in the quality of sleep and overall health.Abyss Unparalleled natural sleep aid that is proven to help fall asleep faster, stay asleep throughout the night, & sleep better overall. The natrual ingredients within Abyss also help lower stress, increase feelings of well being, increase energy throughout the day, and help support a better mood! Sleep better and live better with Abyss Unparalleled!