Warning: This product is not currently available at any store.
Click the button above and PricePlow will email you when the first store has it in stock!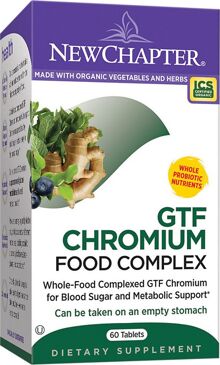 New Chapter GTF Chromium Food Complex
Creating the Greater Whole - The Synergy of Probiotics
To deliver the full profile of Nature's bounty to you, each nutrient in GTF Chromium Food Complex is cultured in live probiotics. Those are the healthy bacteria found naturally in fermented foods such as yogurt, tempeh, kefir, and sauerkraut. By culturing vitamins and minerals in a probiotic matrix of fermented organic soy, fruits, and vegetables, we create whole-food complexes that the body can easily recognize and digest because they're food.*
Cultured Whole Food
Delivers essential nutrients in a safe and active form within the infinite complexity of food.
Blood Sugar Balance
Whole-food complexed GTF Chromium combined with organic Cinnamon supports healthy blood sugar levels already in the normal range.*
Metabolic Support
Dual-cultured GTF Chromium supports normal glucose metabolism and overall metabolic health.*
Probiotic Nutrients
Provides an energizing and protective array of phytonutrients and ferment metabolites, including probiotic cultured soy isoflavones, betaglucans, and bacteriocins.
Convenient
Once-daily formula is easy to take, easy to digest, and can be taken anytime—even on an empty stomach!