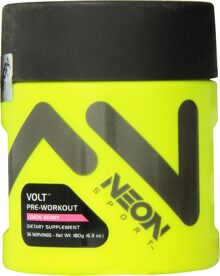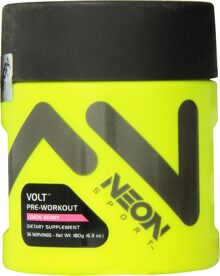 Neon Sport is an offshoot of the famous supplement company, Cellucor. Their products are cost-effective and one of their affordable new supplements is Volt. The name says it all - it can provide energy as a pre workout supplement.
Just like its mother company, Neon Sport maintains high quality supplements through extensive research. They already have knowledge from Cellucor supplement lines, the company just finds ways to deliver their supplement to a larger base of consumers.
Neon's Pre Workout is Different than C4
A volt is a unit of electric potential. It's all about energy. That's why Neon Sports released a flagship pre workout supplement that's guaranteed to raise energy levels for your workout.
This one is different than Cellucor's famous pre workout supplement, C4 Extreme, however:
Quality Ingredients backed with Research

No Creatine

No Nitrates
Neon Sports Volt is a specialized, trimmed down supplement that will appeal to bodybuilders and athletes who want a clean pre workout supplement that maximizes on energy.
---
Neon Sport Volt Ingredients
The specialization of Volt is in the ingredients. You get several ingredients chosen for their capability to boost energy and sustain it for a longer period of time.
Beta Alanine
This is the main ingredient of Volt. It's one of the more popular ingredients in supplements that are packed with a lot of benefits on its own.
Beta Alanine is a beta amino acid. It is not used by the body to create enzymes or proteins, however -- it stimulates the production of Carnosine. Benefits include anti-fatigue and endurance enhancer. The maximum dose of Volt may contain two times more beta-alanine than other brands.
Caffeine
An incredible ingredient that has a long history of use and it has been studied extensively. Caffeine enhances the body by stimulating the central nervous system. You get to move faster, think faster and last longer as Caffeine releases energy from stored glycogen and fat stores.
Rhodiola
Touted as an "adaptogen", Rhodiola rosea studies have shown the ingredient to be capable of helping the body fight stress. It can enhance the production of monoamines, opioid pepties such as beta-endorphins.
Citrulline
Citrulline Malate is the main ingredient of Volt that will help give you muscle pumps. It's better than arginine because it doesn't get deactivated by arginase. Citrulline can increase nitric oxide in the body.
Agmatine Sulfate
Gaining popularity due to its benefits, Agmatine have several properties such as increasing tolerance to pain, improved glucose metabolism of muscles and more. It also provides pumps, giving a great 1-2 combo with the citrulline.
Rauwolfia
Another plant extract that contains Rauwolscine also known as alpha-yohimbine. It has the same benefits as Yohimbine without the side effects!
Nicotinamide Adenine Nucleotide and Hydrogen
Also known as NADH, it is a coenzyme found in living cells. It can assist the body by making energy production more efficient.
Olive Leaf Extracts
An anti-aging ingredient with many antioxidants.
---
Neon Sports Volt Review
In short, this is a great alternative to C4 if you're not into the creatines or the nitrates, but still want some energy and pumps. Rhodiola is a total rock star in this formula.
Volt contains the best researched ingredients that is guaranteed to become a great pre workout replacement in your stack. Many bodybuilders and athletes who don't like nitric oxide boosters or the so-called pump ingredients will love Volt because this supplement mainly focuses on energy, fatigue reduction and endurance and performance booster.
Sadly, Volt won't be much of a supplement for those that are really looking for insane muscle pumps. The dosage of nitric oxide boosters in the product is relatively low compared to most pre workout supplements so those who are at the peak of their stimulant cycles might not feel jolts of stimulation but the energy boost will be there.
---
Any Possible Side Effects of Volt?
Volt contains ingredients that have been studied extensively. However there will always be individuals who will experience side effects.
The main side effect of Volt may come from Beta Alanine sensitivity. Most users report uncomfortable skin tingling. The side effect isn't severe but it can be distracting and irritating.
Other side effects of Volt may be triggered when used with other supplements. The presence of caffeine means that Volt shouldn't be partnered with other caffeine containing products to prevent the side effect Caffeinism, a set of signs and symptoms of Caffeine overdose.
To prevent any possible side effects from Neon Sports Volt, it is highly suggested that you consult your doctor first so he can establish any prescription drug interaction and medical conditions.
As always, you should speak to your doctor before beginning any diet and/or supplementation program, especially if on prescription drugs. For instance, the rhodiola rosea extract is not to be taken alongside several prescription drugs as it works as a light MAO Inhibitor.
---
Where to Buy Neon Sports Volt
Neon Sports Volt is a relatively affordable pre workout supplement with top quality ingredients. If you want to buy Volt you can use the PricePlow search widgets. You can find the store nearest you or get great discounts as much as 50% compared to buying them at retail stores.
A side by side comparison widget at PricePlow will also show you similar supplements, their benefits and price ranges giving you the chance choose the best supplement.
---
What is the Best Pre Workout Supplement?
If you're on a budget, nothing beats the prices of Neon Sports Volt. You can check the search button and see that it is relatively cheaper than most pre workout brands. Those who just want energy will find the supplement a great arsenal in their stacks.
However for those who want extreme stimulation, powerful supplements like C4 Extreme still rank at the top.
Choosing a pre workout shouldn't be just a fad, choose the right one for you. If you're just after energy and on a budget, Neon Sports Volt is the right one for you.
---
Sources Cited: