Warning: This product is not currently available at any store.
Click the button above and PricePlow will email you when the first store has it in stock!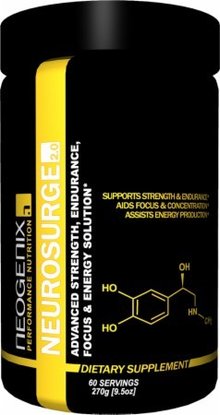 NeuroSurge is an ultra concentrated nootropic-based athletic performance amplifier and cognition aid. It is formulated with a combination of cerebral stimulants, super antioxidants, and powerful metabolic enhancers.* These help increase alertness and energy, cognitive function, strength and endurance levels, blood flow and circulation, as well as support a positive mental state.*
NeuroSurge works by enhancing the release and uptake of neurotransmitters throughout the body.* These are the chemicals nerves use to communicate with each other. When these chemical messengers are elevated in the proper sequence, a powerful physiological and psychological effect can occur.*
Key neurotransmission systems supported by NeuroSurge:
Noradrenergic System: Norepinephrine is a neurostransmitter and hormone which is responsible for the fight-or-flight response. It increases heart rate, releases energy from glucose stores, and increases blood flow to skeletal muscles which helps prepares the body to handle stressful situations.*
Dopaminergic System: Dopamine plays a major role in the brain system responsible for reward-seeking behavior. It provides feelings of enjoyment that motivates a person to perform certain activities. Dopamine is also a chemical precursor to the noradrenergic system.*
Cholinergic System: Acetylcholine is the primary chemical messenger of thought and memory. This excitatory neurochemical is essential for memory storage and recall, and partly responsible for concentration and focus. It also plays an important role in muscular coordination and control.*
Serotonergic System: Serotonin is an inhibitory neurotransmitter that is intimately involved in supporting positive emotions and mood.