Quick Links to Best Prices Price History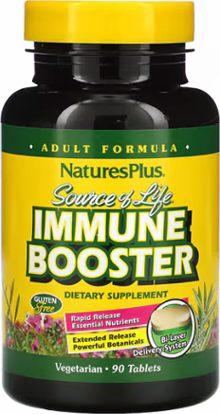 Nature's Plus Source of Life Immune Booster
Product Label
ADULT FORMULA

Nature's Plus

The Energy Supplements

Source of Life

DIETARY SUPPLEMENT

Rapid Release Essential Nutrients

Extended Release Powerful Botanicals

Vegetarian - Hypo-Allergenic

Nutritional Support for Overall Well-Being.*

Source of Life ADULT FORMULA IMMUNE BOOSTER supplies powerful levels of the immune-fortifying vitamins A, C and E as well as defense-boosting zinc, in the fast-releasing side of a proprietary bi-layered tablet. Then powerful standardized botanicals are released from the extended delivery layer. ARA-Larix, Olive Leaf, Andrographis, Elderberry and Echinacea offer nutritional support for a healthy immune system, while Acidophilus helps promote a balanced digestive environment and optimal nutrient absorption.