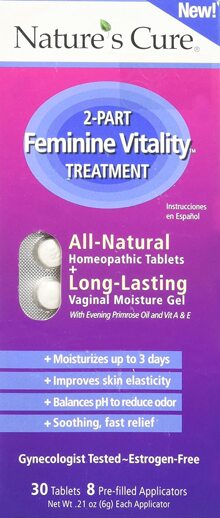 Nature's Cure Fem Care 2-Part Feminine Vitality Treatment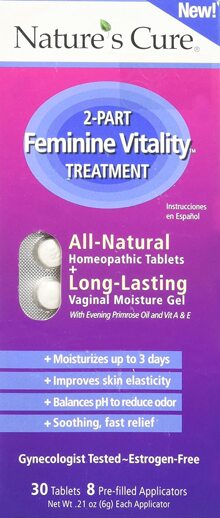 Nature's Cure Fem Care 2-Part Feminine Vitality Treatment
Error Processing this data from Biztalk::
Vaginal aging results from hormonal changes that can thin vaginal skin and reduce secretions. Signs of vaginal aging include dryness, minor inflammation, discomfort during intercourse, loss of elasticity and elevated vaginal pH, which can lead to odor.
Younger women may also experience dryness due to childbirth, breast-feeding, certain medications, smoking, or even douche or tampon use.
Nature's Cure is a unique two-part inside/outside treatment formulated to promote vaginal comfort and vitality:
Part 1* All-Natural Homeopathic Tablets stimulate your natural defenses to correct minor inflammation, that can result from external irritants and hormonal changes. Nature's Cure tablets have no side effects.
*Tablet ingredients and their indications are based on traditional homeopathic proving.
Part 2: Long-Lasting Vaginal Moisture Gel eases dryness on contact and replenishes moisture for up to 3 days. Botanicals like Evening Primrose Oil and Tamarind Seed provide moisture, while Ginseng and vitamins A and E improve skin strength and tone. An advanced bioadhesive stays in place to adjust pH, reducing the risk of odor, and soothe the area with the skin conditioners like Allantoin. It is natural-feeling,. water-based, estrogen-free, unscented, flavorless, and no-mess.
With Nature's Cure, you'll feel more lubricated confident and comfortable during sexual activity and your daily life.
Ingredients:
Homeopathic Tablets
Active Ingredients: Berberis Vulgaris (Barberry) 6X, Calcarea Carbonica (Calcium Carbonate) 30X, Ferrum Matallicum (Iron) 12X, Graphites (Graphite) 12X, Lachesis Muta (Bushmaster Snake) 30X, Lycopodium Clavatum (Club Moss) 30X, Natrum Muriaticum (Sodium Chloride) 30X, Nitricum Acidum (Nitric Acid) 12X, Pulsatilla Nigricans (Wind Flower) 12X, Sepia (Cuttlefish Ink) 30X, Silicea (Flint) 30X.
Inactive Ingredients: Lactose, Magnesium Stearate.
Made in accordance with the Homeopathic Pharmacopeia of the United States.
Vaginal Moisture Gel
Water, Glycerin, Carbomer, Cellulose Gum, Tamarindus Indica Seed Extract, Vitis Vinifera (Grape) Seed Oil, Oenothera Biennis (Evening Primrose) Oil, Gynostemma Pentaphyllum Extract, Retinyl Palmitate (Vitamin A), Tocopheryl Acetate (Vitamin E), Disodium Lauriminodipropionate Tocopheryl Phosphates (Vitamin E Phosphate), Panax Ginseng Root Extract, Allantoin, Distilled Monoglycerides, Lactic Acid, Pentylene Glycol, Methylparaben.
Made in USA
Keep out of reach of children.
Nature's Cure is not a contraceptive.
If vaginal irritation occurs, discontinue use. If symptoms persist, contact your physician.
Important: If the applicator wrapper is missing or torn of the Nature's Care imprinted tablet backing is missing or broken, Do Not Use and return entire contents to the place of purchase. Store at room temperature (59 - 86&deg F). Avoid extreme heat or cold.
* These statements have not been evaluated by the Food and Drug Administration. This product is not intended to diagnose, treat, cure, or prevent any disease.