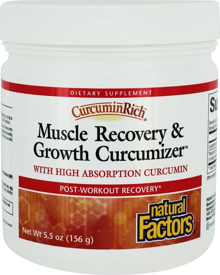 Natural Factors CurcuminRich - Muscle Recovery & Growth Curcumizer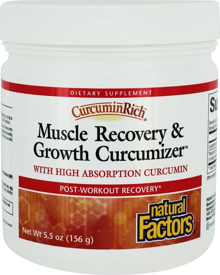 Natural Factors CurcuminRich - Muscle Recovery & Growth Curcumizer
Natural Factors - CurcuminRich Muscle Recovery & Growth Curcumizer Post-Workout Recovery Powder - 5.5 oz. (156 g)
Natural Factors Curcumin Rich Muscle Recovery and Growth Curcumizer is a post-workout recovery powder with high absorption curcumin. Curcumin is the yellow pigment in turmeric with many valued health benefits, but it is difficult for the body to absorb. Theracurmin is a natural curcumin preparation that utilizes advanced techniques to reduce curcumin's particle size, dramatically increasing its solubility and bioavailability. Detailed absorption studies have proven that Theracurmin is the best-absorbed form of curcumin on the market.
Muscle Recovery & Growth Curcumizer combines Theracurmin with micronized L-glutamine to:
Support muscle cell repair after exercise
Support the body's natural inflammatory response
Support immune and digestive system health after periods of physical stress
Exert powerful antioxidant activity
Natural Factors Farms
Natural Factors Privilege & Passion
Today, Natural Factors is one of the largest manufacturers of nutritional products in North America. But their origins reach back to the 1950s, and right from day one, they've always been fully committed to making products right. Natural Factors is not a public company with shareholders to impress. Instead, they care about impressing you.
A Very Special Place
In the alluvial valley between Otter Lake and Swan Lake, just south of the city of Armstrong, BC, lies a very special tract of land- Natural Factors Farms. This exquisite certified-organic farmland gives Natural Factors complete control over securing the best quality raw materials possible. Literally, control from seed selection to finished products. Few, if any, companies in the world can demonstrate such a degree of control over their operations.
Everything Starts With the Soil
This farm has truly unique soil, built up over millennia as water from Otter Lake repeatedly flooded the valley below. These floods deposited a tremendous amount of organic matter onto the land. The resulting alluvial soil is extremely fertile. This incredible top soil is over two metres deep in places and has special lime stratification, which plays an important role in neutralizing the pH of the soil.
Seed Selection
One of the advantages of doing their own organic farming is having complete control over seed selection. Natural Factors make sure to choose true "species" non-hybrid, non-GMO seeds. It's very important to make sure that the seedlings are natural and healthy, because healthy seedlings mean healthy mature plants. Some of the open pollinated, non-hybridized crops they grow are Echinacea purpurea, astragalus, alfalfa, and lavender.
Controlling the Harvest
Natural Factors also has full control over the harvest. For example, they selectively handpick the echinacea flowers, picking only the mature flower heads, because they contain the highest levels and best ratios of active ingredients. That's a great advantage over mechanical harvesting, which doesn't allow for selection based on the maturity of the plants.

Beyond the Farms
Natural Factors' Facilities
Natural Factors has close to 700,000 square feet of space across nine locations in North America, housing offices, manufacturing and production facilities, laboratories, distribution centres, and extensive warehouses. Their head office is in Coquitlam, British Columbia and their new US office is in Monroe, Washington.
Industry Leaders In Manufacturing
Natural Factors vitamin and supplement manufacturing capabilities include tableting, liquid and powder extraction, multi-ingredient aqueous granulations, and a liquid fill line. They are the only branded manufacturer of nutraceuticals in Canada to have their softgel encapsulation facility, giving them further control over the end product. Their softgel facility can produce up to four billion softgels per year.
Big Enough To Do It Right
Natural Factors believes they need to be "big enough to do it right." This means bringing as many processes in-house as possible. They are one of the only nutritional companies to have their own organic farms, their own extraction, encapsulation, and production facilities, their own labs and research facilities, and a vast network of academic, scientific, and retail partners.
50 Years of Outstanding Quality
Reputation for Quality & Purity
Over the past 50 years, Natural Factors' customers have come to trust Natural Factors products. That trust is built on their dedication to formulating safe and effective products and manufacturing them to the highest quality standards, day in and day out.
Isura Thrid Party Product Verification & Certification
Natural Factors chose Isura to certify their products because they use state-of-the-art equipment, such as real-time PCR (polymerase chain reaction) analysis, to identify genetically modified or genetically engineered organisms. They also use mass spectrometry to test for over 400 pesticides, solvents, heavy metals, and other contaminants. The Isura seal of approval is your guarantee that Natural Factors' products are non-GMO, safe, pure, and potent.
The Real Measure of Success
Natural Factors' primary goal is to have the products and education that they provide truly make a difference in the lives of the people they touch. They use these products themselves and give them to their loved ones, so they want them to be the best, most effective products possible, produced in an environmentally sustainable way. Although the company has the most technologically advanced manufacturing facility, what really helps them succeed are the values they abide by and the incredible people they have throughout the company.
Commitment to Science
Scientific Team
One of the things that set Natural Factors apart from others in their industry is the breadth of knowledge represented by the scientific experts that work for them. Drawn from around the world and chosen for their unique training and background, Natural Factors' scientists and quality control specialists are recognized experts in their fields.

Good Stewards of the Earth
Caring For People & The World
It's part of Natural Factors' mission to contribute, in a cooperative and sustainable manner, to the lives of their customers, employees, suppliers, and the communities they serve. This includes caring for the planet. Air to breathe, water to drink, food to consume – the Earth provides everything we need to survive and thrive. Natural Factors' founder, Roland Gahler, has always believed passionately that everyone needs to be good stewards of the earth, and that has become a cornerstone of his company's philosophy.
Sustainability
Mission
Natural Factors' Mission is to enhance the well-being of their customers– through research, development, and delivery of effective nutritional supplements and other health-building products. They are in business to contribute, in a cooperative and sustainable manner, to the lives of their customers, employees, suppliers, and the communities they serve.
Reducing Natural Factors' Footprint
Natural Factors is working to reduce their footprint in all areas of their operations. Their newest production facility is LEED (Leadership in Energy and Environmental Design) Gold certified. They have found ways to reduce waste and improve energy efficiency at both their offices and their manufacturing facilities, and are increasingly aligning themselves with suppliers who are also committed to sustainability. They have employee engagement initiatives, a recycling program, and are working toward zero waste.
Giving Back
In keeping with their philosophy of caring for people and the world, Natural Factors quietly does their part to make this world a better place. Whether it's supporting research and education, making charitable donations, or giving product to people in need, Natural Factors gives back in many ways locally, nationally, and around the world.

Plant a Seed

Natural Factors is excited to be a supporter of the Plant a Seed & See What Grows Foundation, a charitable organization whose vision is to help create a healthier generation through experiences that connect people to the land. They also donate $2 from the purchase of every bottle of Whole Earth & Sea product to the Foundation.
Helping Those Who Need it Most
Natural Factors is proud to support organizations like Vitamin Angels. For over 20 years, they have been helping at-risk populations like pregnant women, new mothers, and children under five to gain access to life-saving and life-changing – vitamins and minerals. In addition to corporate sponsorship of Vitamin Angels, they have donated their products and expertise.
Botanical Research and Seed Preservation
Natural Factors is committed to protecting and preserving as many endangered plant species as possible, as well as rare heirloom varieties of fruits and vegetables, many of which are long gone from farms and even private gardens. After years of botanical research they have a collection of seeds that has become a seed bank in its own right. Storing these seeds in the proper controlled environment will keep them viable for the benefit of future generations.