Quick Links to Our Prices Price History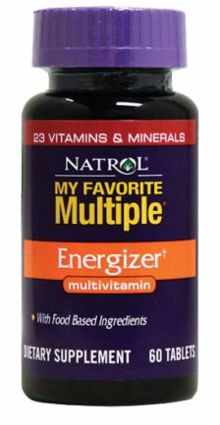 Natrol My Favorite Multiple Energizer
23 Vitamins and Minerals
Energizing Complex
With Food Based Ingredients
Take 1 daily
Energizing Daily Multivitamin
My Favorite Multiple Energizer is formulated for today's busy lifestyle and your rigorous training regimen with a more complete formula to give you energy throughout the day.*
The diverse vitamin, mineral and antioxidant formula includes Natrol's Proprietary Energizing Complex as well as food based ingredients providing a unique combination of nutrients for your overall health and wellness.*
⚫

Each high potency My Favorite Multiple Energizer tablet provides 23 essential vitamins and minerals including Vitamin A, Vitamin B-1, B-2, B-3, B-6, and B-12, Biotin, Vitamin C, Vitamin D, and Vitamin E.

⚫

Natrol's proprietary energizing complex helps support mental and physical stamina with Eleuthero, circulation with Ginkgo and revitalization with Green Tea.*

⚫

UltraGreen Blend includes several superfood greens such as spinach, alfalfa, parsley and spirulina known for a variety of micronutrients. This special formula is also spiced with peppermint and spearmint for added benefits.
About Natrol
Natrol, Inc. is a premier manufacturer of vitamins, minerals and supplements made in the USA. We offer a wide breadth of products designed to support your family's health and wellness throughout every stage of life. Our innovation blends the best of science and nature. With over 30 years of quality uncompromised, Natrol products have captured the loyalty of consumers worldwide. Natrol Family of Brands includes Natrol, MRI, PROLAB, Laci Le Beau, NuHair, Shen Min, Promensil, & Trinovin.