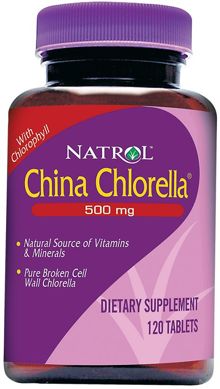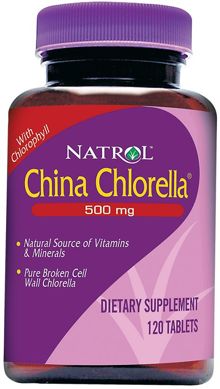 China Chlorella (500mg) Overview

Chlorella is one of the most popular green superfoods, and is particularly valued for its high chlorophyll content. Most chlorella supplements are nutritionally very similar, but experienced users stick with name brand products like China Chlorella from Natrol. China Chlorella is in tablet form, so it's infinitely easier to use in substantial doses than chlorella powders. Chlorella cells are protected by an indigestible cellulose cell wall, so the densely concentrated nutrients within the chlorella cell itself are largely unavailable unless the cell wall is broken down. Like most premium chlorella supplements, China Chlorella has been processed to break down the cell wall, allowing full absorption of the nutrients within.
China Chlorella (500mg) Description from NATROL
China Chlorella is a green, single-cell, fresh-water Micro-Algae. Chlorella is a whole food that is high in chlorophyll, proteins, enzymes, minerals, beta-carotene, vitamins, minerals and essential fatty acids.

The product has Vitamin C and E, Folic Acid, Biotin, Pantothenic Acid, Calcium and Copper. Chlorella is used to regulate cholesterol levels, improve bowel function, encourage the bodily production of healthful bacteria, stimulate anti-viral activity, enhance immune function and anti-tumor activity, and help repair DNA.

Pure Broken Cell Wall China Chlorella has double the digestibility and assimilation rates of Heat Treated or Whole Cell Chlorella.

China Chlorella is a green, single-cell, fresh-water Micro-Algae which has been at the base of the planetary food chain for over 2.5 billion years. The nutritional value of China Chlorella sets it apart from all other foods. It contains 60% protein, 19 amino acids including all the essential ones plus at least 12 important vitamins and 11 minerals.

The Chlorophyll content of China Chlorella is 2%-3%, which is higher than any other known plant source. China Chlorella also contains 76 ppm (parts per million) of Germanium. Nucleic acids DNA and RNA occur naturally at some of the highest levels in China Chlorella.

The China Chlorella Growth Factor or C.G.F., as it has been called, is the most valuable substance contained in China Chlorella. Though not entirely understood it accelerates the growth of organisms. China Chlorella is made of pure, whole, natural chlorella cells. The outer cell is cracked by a unique, instantaneous, chilled spray drying method. This ensures maximum digestibility and assimilation of all the vital nutrients. China Chlorella the Jewel of the Orient. Never before has so much been contained in so little.
Supplement Facts
Service Size: 6 tabs
Servings Per Container: 20
Ingredient
Amount
% Daily Value**
Calories
13
Carbohydrates
0.6g
Protein
1.8g
4
Vitamin A ( fromChina Chlorella)
1650 IU
33
Thiamin ( from China Chlorella)
40mcg
3
Riboflavin ( from China Chlorella)
140mcg
9
Niacin ( from China Chlorella)
710mcg
4
Vitamin B-6 ( from China Chlorella)
50mcg
3
Vitamin B-12 ( from China Chlorella)
3mcg
63
Iron ( from China Chlorella)
5.0
28
Phosphorus ( from China Chlorella)
25mg
3
Iodine ( from China Chlorella)
15mcg
12
Magnesium ( from China Chlorella)
9.0mg
2
Zinc ( from China Chlorella)
2.0mg
14
** Percent Daily Value is based on a 2000 calorie diet. Your daily values may be higher or lower depending on your calorie needs.
† Daily Value not established.

CONTAINS NO: Yeast, Wheat, Milk, Corn, Egg, Soy, Glutens, Animal Derivatives, Sugar, Artificial Color, Added Starch or Preservatives.

Manufacturer's Directions
Recommended daily amount is 3 grams or more per day for adults. (6 each of 500 mg tablets.) Tablets may be taken at one time or throughout the day as desired.