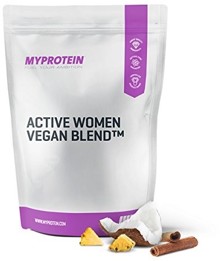 Myprotein Active Women Vegan Blend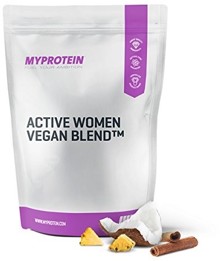 Myprotein Active Women Vegan Blend
Over 21 grams of protein per serving in a pre workout shake blend that boost
our energy level without interfering with your sleep patterns. A cutting edg
ormula designed to help women to get more out of their workouts.Unlike othe
re workout blends, Active Women from MyProtein tastes incredible without an
rtificial flavoring and doesnt have as much caffeine. Natural energ
oosting ingredients like powdered coconut water and green tea extract giv
ou the energy that you want without the side effects of high-caffeine pr
orkout blends. High in coconut powder and the dietary fiber known as inuli
hat act together to fight aging and increase weight loss.This is the perfec
ay to fuel your ambition to be the best woman you can be ever
orning.Instructions: Add 6 small scoops to 300-400ml of water or other shak
ix. Stir or shake until blended. Recommended that you consume this pr
orkout mix 30 minutes before workout on an empty stomach.About Active Wome
rom MyProtein Active Women is a special line of nutritional products fro
yProtein designed to help women to achieve their health and fitness goals. I
ncludes protein supplements, vegan and vegetarian supplements, mea
eplacement mixes, diet capsules, supplements, Skinny Cookies, snacks, an
ore.About MyProteinMyProtein is a premium nutritional brand that manufacture
ver 2,500 high quality products. Its a range that supports everyone fro
eginners to professional athletes with high quality ingredients and cuttin
dge nutritional blends, food products, hydration aids, gym accessories, an
ore. Whatever your goals are, MyProtein wants to help you to achieve them.