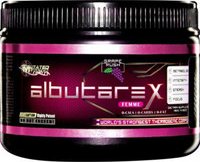 Mutated Nation Albutarex Femme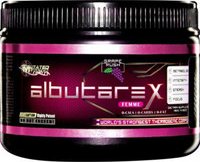 Mutated Nation Albutarex Femme
CLEARANCE: EXPIRES OCTOBER 2014
---
Mutated Nation Albutarex Femme:
The Smart Fat Burner Designed for Women!
Albutarex Femme Features
Supports Metabolism
Boost Energy
Enhance FocusVitamin C (as Ascorbic Acid)
Mutated Nation Albuterex Femme is the smart fat burner designed specifically for women. Albuterex Femme combines concentrated ingredients in an easily absorbed formula!
When you're trying to lose fat, the alpha-2 receptor is your enemy. It inhibits lipolysis, meaning it can cause the body to store fat while also blocking fat burning. Alpha-2 receptors can be prevalent in common problem areas of your body such as your abs, hips, and buttocks. Albuterex Femme is launches a full scale attack on alpha 2 receptors with its formulation. Start fighting back to win the battle against fat with Albutarex Femme!
These statements have not been evaluated by the Food and Drug Administration. This product is not intended to diagnose, treat, cure or prevent any disease.
Back To Top