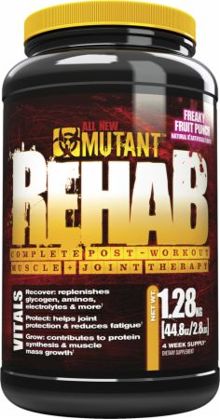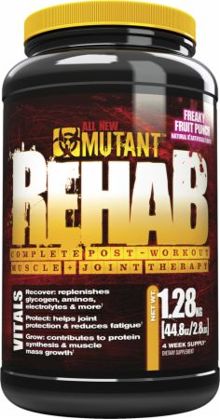 Mutant Rehab
Helps protein synthesis for gains in size & strength*
Speeds anabolic rich nutrients into hard trained muscles*
Crushes destructive catabolic activity post-workout*
Helps Replenish glycogen, amino and electrolyte stores*
What to Expect on Rehab
Rehab is without a doubt the most advanced, scientifically superior post-workout muscle and joint repair formula ever developed for hardcore bodybuilders. The critical importance of a post-workout formula of such magnitude as Rehab cannot be overstated enough. You spend hours in your iron sanctuary hammering the weights - brutal rep after brutal rep, painstaking set after painstaking set! You lay an all out assault on your muscles with every gym session. Muscle fibers get severely broken down and joints get excessively damaged. But in this game, there are no excuses for tomorrow's workout. So you need to take every measure possible after each and every workout to ensure that your muscles and joints are given everything they need to repair, recover and grow bigger and stronger!
So what are you doing now? Well if you're not downing a full potent dose of Mutant Rehab the minute you drop the weights on your last set then you're not doing nearly enough! Inspired by some of the world's most technologically advanced innovations, Rehab is built using the principle of 360° Engineering. That means that the leading-edge Mutant Lab Scientists factored in every possible nutraceutical angle of muscle repair and recovery on the planet when developing this complete post-workout muscle and joint therapy formula. No cutting-edge, lab proven compound was overlooked when designing the Rehab formula. At the onset of every highly active dose, Rehab anabolically overloads your system creating a state of extreme hyperaminoacidemia in the bloodstream. In precise sequential order, Rehab then helps to spike insulin levels to shut down the catabolic action of cortisol and shotgun all the anabolic rich nutrients from the blood straight into your muscles! The result is a shocking anabolically stimulated environment in your hard trained muscle cells – forcing them to mutate into monster cells of massive size with the capacity to generate more strength than ever before! On top of that, Rehab is concentrated with advanced joint repair and reconstruction compounds to ensure your joints can handle the extreme loads and relentless smashing you inflict on them with every weight you destroy! Just try to find another post-workout formula that is as seriously complete as Rehab!*
Train, Recover, Grow Like a Freak
The research is documented and harshly clear – at the end of each training session in the gym, a portal to massive growth opens up for you to take advantage of. But understand that this window of opportunity has a finite time period and if you don't seize the moment your chances of achieving true Mutant status are slim to none! Rehab is everything you need to take full advantage of the post-workout growth window. Down a scientifically serious dose and you've done your duty, the rest is now in the hands of your muscle fibers to lead you to the land of the mass monsters. Rehab contains so many layers of engineering to guarantee it delivers rapid and dramatic muscle, joint and strength building results never seen before. In fact, the Rehab platform was proven in leading scientific research conducted in the state-of-the-art Medical Branch at the University of Texas. Documented testing showed that the foundation compounds, such as those found in the potent Rehab formula, spiked the anabolic amino acids levels in the blood, stimulated the secretion of the highly anabolic insulin hormone and forced growth-inducing nutrients directly into muscle cells. The end result? Significantly higher muscle protein synthesis levels, which is the direct key regulator of extreme muscle recovery and growth! When you dose with Rehab you know that this monster formula is going to seriously deliver some earth-shattering results!
In a cutting-edge lab study, test subjects who consumed the same base compound foundation found in the potent Rehab formula had extreme 5-mm muscle biopsy needles extract active muscle tissue samples at precise times after their weight training session. These same test subjects using the Rehab formula base compound showed significantly higher protein synthesis activation than test subjects who either consumed a protein supplement or a carb supplement after training, proving that taking Rehab post-workout is superior for creating a greater anabolic environment for more muscle and strength gains!
Leave Humanity Behind
You want to get huge and crush heavy weights in the gym. But how bad do you really want it? What sacrifices are you willing to make? If you want to join the league of Mutans around the globe, you're going to have to be ready and willing to do Whatever it takes! We're not talking about working out here and there and eating a few big meals. Mutants never miss a workout and always eat calorie-dense meals! Mutants know how important it is to use only bleeding-edge supplements that are engineered and tested on some of the biggest mass Mutants on the planet to not just work, but to deliver Impressive Results! Rehab is no exception to this rule! The innovatively insane Rehab formula is an absolute must if you want to get huge! No other post-workout formula out there is this complete. Branched-chain amino acids, essential amino acids, insulin activating carbs, hydrating electrolytes, joint reconstructioning compounds, cortisol blockers and clinically proven muscle and strength building creatine. You get all that and more every time you pound back a sweet-tasting dose of Rehab. If you can't get stupid big taking a hit of Rehab after you hit the gym hard then nothing is going to help you. This is the one and only formula that is an absolute must in your life-committed muscle mass building experiment. Hell if you're really serious, take this bottle with you right now and head straight to the gym and pound some weights then drink a surprisingly great-tasting hit of Rehab and let the muscle mass building games begin!