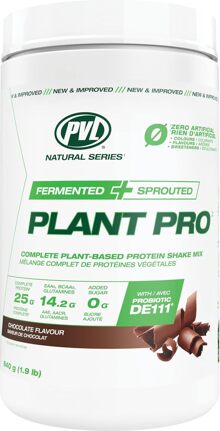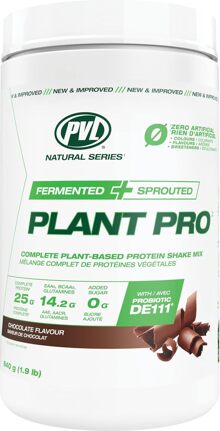 PLANT-PRO
PLANT-BASED PROTEIN – FOR EVERYBODY!
Whether you are vegetarian, vegan or simply just trying to get more plant-based food into your diet, you have come to the right place! The challenge for many of us on-the-go (athletes or non-athletes alike), can be getting ample quality protein through diet alone, and that is where all new PLANT-PRO delivers!*
FERMENTED IS BETTER!
Specially formulated with new FERMENTED pea protein isolate plus sprouted brown rice, pumpkin and quinoa proteins, this blend delivers a complete amino acid profile! In addition to using FERMENTED and sprouted plant-based proteins, we included key enzymes to PLANT-PRO to significantly help improve digestion, making PLANT-PRO likely the easiest digesting whole-food protein you may ever try!*
HIGH PROTEIN – ADD TO SMOOTHIES OR USE BY ITSELF!
PLANT-PRO is high in protein and has no added sugar or sugar alcohols – it is designed to be added to smoothies, to boost their protein content. With this being said, PLANT-PRO tastes so great and silky smooth, that you can also use it all by itself, in water or your favorite dairy alternative! It also mixes easily into oatmeal, muffins or pancakes!*
RECOVER – Protein helps to repair and preserve lean muscle tissue
LOW CARB – Diet friendly
QUALITY – Fermented and sprouted protein sources, for superior nutrition
EASIER-DIGESTING – 4 whole-food, plant protein sources
FORTIFIED – Includes additional enzymes for easier digestion and increased uptake*
Banned substance tested – Informed Choice certified