Quick Links to Best Prices Price History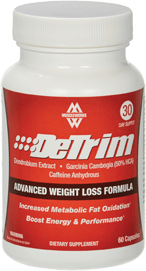 MuscleWerks Detrim | Now on Sale at
Dendrobium extract enhances physical and mental energy to boostathletic performance. Dendrobium extract is also a dopaminesecretagogue, which results in mood modulation and heightened focus.
Metabolically, dendrobium spares muscle glycogen while delayingneuromuscular fatigue and promotes re-hydration throughout muscle tissuefor better circulation and faster recovery.
DeTrim helps to destroy glycogen stored in the liver by means ofGarcinia Cambogia, which provides long lasting energy while preventingfat accumulation in the midsection and increasing fatty acid oxidation.
This radical combination makes DeTrim the best "Feel Good Fat Burner" on the Market.