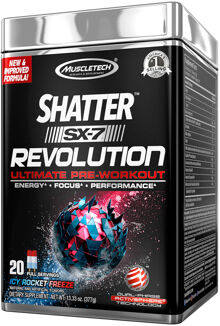 MuscleTech Shatter SX-7 Revolution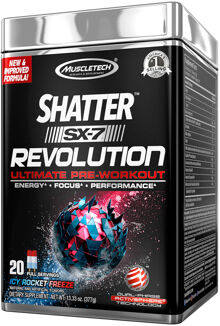 MuscleTech Shatter SX-7 Revolution
TECHNOLOGY MEETS EFFICACYWITHOUT COMPROMISE
introducing Shatter SX-7 Revolution, a scientifically advanced formulathat features cutting-edge dual-phase, multi-particulate technology forincredible results. This premium formula provides ingredients in a never before-seen combination to deliver unparalleled workouts and help you shatteryour personal records!

SCIENTIFICALLY ADVANCED PUMP & MUSCLEBUILDING POWER
Shatter SX-7 Revolution delivers a powerful dual-dose combination ofL-citrulline engineered to increase nitric oxide levels. This promotes vasodilationfor enhanced nutrient delivery and intense muscle pumps. What's more, thisformula also delivers a scientifically studied dose of betaine for superiorgains in lean muscle, strength and power!

ENHANCED MUSCLE & STRENGTH
To enhance the muscle- and strength-building process, MuscleTech researchersincluded a powerful research-inspired dose of CarnoSyn beta-alanine. Plus, theprecise dose of taurine found in two scoops has been shown in scientificresearch to boost performance in endurance athletes.

EXPLOSIVE ENERGY & POWERFUL NEUROSENSORY
Shatter SX-7 Revolution delivers a dual-phase combination of immediate andsustained-release caffeine to enhance focus and to boost energy andintensity. What's more, it features ActivSphere TeaCrine, lion's mane,guayusa and yohimbe for a unique sensory experience.

SHATTER SX-7 REVOLUTION – THE ULTIMATEPRE-WORKOUT WITH DUAL-PHASE TECHNOLOGY
Shatter SX-7 Revolution features cutting-edge dual-phase, multi-particulatetechnology and is the most powerful pre-workout available on the market!