Quick Links to Best Prices Price History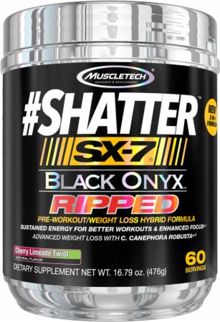 MuscleTech #Shatter SX-7 Black Onyx Ripped
Pre-Workout/Weight Loss Hybrid Formula
#ShatterTM SX-7 Black OnyxTM Ripped is the new dual-function pre-workout/weight loss hybrid formula from MuscleTech. This unique formula combines precise doses of powerful pre-workout ingredients, such as beta-alanine, taurine and citrulline, plus a scientifically tested key weight loss driver backed by two human studies. #ShatterTM SX-7 Black OnyxTM Ripped also features a one-of-a-kind mix of sensory ingredients including Myristica fragrans, satsuma orange, Scutellaria and black currant powder for a truly unique experience unlike anything you've ever tried.
Myristica, satsuma orange, Scutellaria & black currant – A blend of premium ingredients that contributes to the extreme sensory experience.
L-citrulline – An amino acid that is metabolized into arginine and nitric oxide.
Beta-alanine – A popular pre-workout ingredient that has been added in a precise dose for a truly complete formula.
L-carnitine – An amino acid metabolite involved in energy metabolism.
Taurine – A free amino acid commonly found in pre-workout formulas and energy drinks.
Caffeine – #ShatterTM SX-7 Black Onyx Ripped features a power ful dose of this scientifically researched ingredient shown to enhance thermogenesis, increase energy and enhance mental focus.
C. canephora robusta – Subjects taking 200mg of C. canephora robusta lost an average of 10.95 lbs. (vs. 5.40 lbs. for placebo) in 60 days with a low-calorie diet, and 3.7 lbs. (vs. 1.25 lbs. for placebo) in 8 weeks with a calorie-reduced diet and moderate exercise.