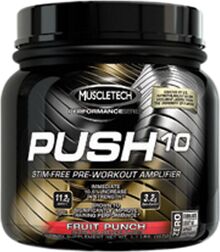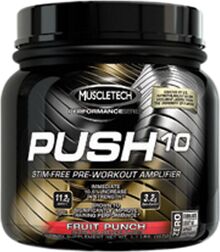 Don't Settle for Just One Rep When You Can Push10
All-New PUSH10 is a powerful pre-workout amplifier that delivers an immediate 10.5% increase in strength, increases muscle endurance by 21%, and significantly improves training performance, with zero stimulants, zero creatine, and zero banned substances (WADA).*
Stim-Free Pre-Workout Amplifier
Push10 is a next-generation strength and performance supplement that works immediately to help you perform your best during your toughest workouts or sport-specific training programs. Push10 is unlike anything you have ever tried - it represents a new scientific development in the creation of an advanced muscle-performance formula that delivers incredible strength gains on your very first dose. Push10 can also be virtually stacked with any other product in your supplement arsenal, making it the ultimate pre-workout formula.*
Immediate 10.5% Increase in Strength*
In a human study conducted at the University of Florida, subjects experienced first-dose strength gains (increased total work performance) at 0, 5, and 15 minutes when they took the Gakic supplement, a core component in Push10 versus using a placebo by 12, 9, and 11%, respectively – an average strength increase of 10.5%!1
Increase Muscle Endurance by 21%*
In the same study, subjects also improved fatigue resistance, increasing muscle performance (force) at 0, 5, and 15 minutes by 28%, 21%, and 14% more than when given a placebo – an incredible average increase of 21%!1 Researchers suggest that one mechanism likely responsible for the performance-enhancing effects of the Gakic in Push10 is the removal of the fatigue-inducing waste product ammonia, which limits muscular power output. By removing more ammonia, athletes can perform more muscle work.1,2
Ehance Training Performance*
3200mg of beta-alanine has been added to Push10 which has been shown in research to increase training performance.3 Other pre-workout formulas deliver a questionable dose of this ingredient hidden within a proprietary blend.
Patent-Protected Formula
Push10 contains the official, patent-protected ingredient complex, Gakic (complex covered by patent #6, 100, 287 under exclusive licence from the University of Florida) – a research-backed, advanced strength, and endurance-enhancing compound. Experience incredible first-dose strength gains and push your training performance to the max with Push10.*
Best-in-Class Taste
Push10 was flavored by one of the world's top flavoring houses by flavoring experts in order to taste better than any other pre-workout on the market.
Get More for Your Money
Unlike the competition. Performance Series products contain superior key ingredients in clinically dosed amounts that are fully disclosed so you know exactly what you are paying for.
References
Stevens et al., 2000. Medicine & Science in Sports & Exercise. 32(12):2102.
Buford et al., 2004. Medicine & Science in Sports & Exercise. 36(4):583.
Saunders et al., 2012. Journal of the International Society of Sport Nutrition. 9:39