Quick Links to Best Prices Price History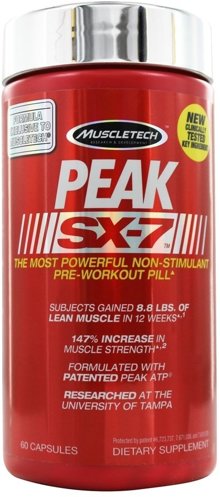 THE MOST POWERFUL NON-STIMULANTPRE-WORKOUT PILL
SUBJECTS GAINED 8.8 LBS. OF LEAN MUSCLE IN 12 WEEKS
147% INCREASE IN MUSCLE STRENGTH
FORMULATED WITH PATENTED PEAK ATP
RESEARCHED AT THE UNIVERSITY OF TAMPA
THE MOST POWERFUL NON-STIMULANTPRE-WORKOUT PILL
Peak SX-7™ is the most powerful pre-workout pill on the market today. Many pre-workout pills and powders give you energy and a "buzz,"– but how many can legitimately help you add lean muscleand extreme strength gains in just 12 weeks? Time to leave your old pre-workout behind.
How Does It Work?
Research suggests the key compound in Peak SX-7™ works using three distinct pathways. The first pathway helps increase blood flow to deliver more oxygen to hard-working muscles, allowing them to work even harder. The second mechanism of action is to help your muscles control ionic flux during contractions so they can recover and contract faster. The third and most important pathway of action is when Peak SX-7™ triggers the anabolic mTOR pathway – this puts your muscles in "musclebuilding" mode.
Subjects Gained More Muscle & Strength Than Subjects Usinga Placebo in a 12-week Clinical Study
Researchers at the prestigious University of Tampa conducted arandomized, double-blind, placebo-controlled clinical study doneover 12 weeks on very well-trained athletes. Subjects gained 8.8 lbs. of lean muscle versus the placebo group, who only gained 4.6 lbs.The results were breakthrough!