Quick Links to Our Prices
How does this work and how do stores get listed? See our disclosure below to learn more.
100 Softgels
(Buy 1 Get 1 FREE) Price History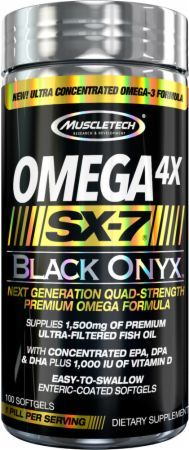 MuscleTech Omega 4X SX-7 Black Onyx
FISH OILS
OMEGA 4X SX-7 BLACK ONYX
SUPPLIES 1,500MG OF PREMIUM ALTRA-FILTERED FISH OIL
WITH CONCNTRATED EPA, DPA & DHA, PLUS 1,000 IU OF VITAMIN D
EASY-TO-SWALLOW, ENTERIC-COATED SOFTGELS
ULTRA CONCENTRATED OMEGA-3 FORMULA
We spend countless hours debating the merits of various pre-workouts, proteins, recovery products and pills – and many of us are on a continuous quest to discover and try the next great stimulant or musclebuilding "secret" ingredient.
Yet there is one ingredient that is so overlooked and so undervalued that most lifters either don't take it, or if they do take it, they pay little attention to quality — taking it only so they can feel good about having a nutritional base "covered off." And while many athletes can rattle off four or five different types of creatine and their benefits, few have such vast knowledge of this supplement.
NEXT GENERATION QUAD-STRENGTH PREMIUM OMEGA FORMULA
Omega 4X SX-7 Black Onyx is an advanced, ultra-pure and high-potency fish oil formula designed specifically for hardcore athletes. With 1,500mg of fish oil in each serving, Omega 4X SX-7 Black Onyx supplies 1,200mg of omega-3 fatty acids − that's an 80% concentration, one of the highest potencies available. Each capsule delivers an incredible four times the omega-3 fatty acids of regular fish oil products. This includes high doses of the key omega-3 fatty acids docosahexaenoic acid (DHA) and eicosapentaenoic acid (EPA).
FEATURING DPA
Omega 4X SX-7 Black Onyx also contains 150mg of other omega-3 fatty acids, including docosapentaenoic acid (DPA). DPA has recently been featured and recognized in numerous emerging research papers. And for a complete formula, 1,000 IU of vitamin D is included to help meet your daily requirements. Research suggests that healthy vitamin D levels are important in supporting athletic performance!*
NO FISHY AFTERTASTE
A combination of the super-filtration process along with enteric-coated, easy-to-swallow softgels takes away those unwanted fish burps that are so common with lower quality fish oil products.*
HIGHLY PURIFIED FISH OIL
The fish oil in Omega 4X SX-7 Black Onyx undergoes a five-step manufacturing process, which includes molecular distillation.
Meanwhile, super-critical purification technology refines the precious oil to remove unwanted impurities, such as mercury, cadmium, lead and PCBs — harmful impurities you definitely don't want in your fish oil product.
TESTED FOR QUALITY AND PURITY
To ensure a high standard of quality, each batch of Omega 4X SX-7 Black Onyx also undergoes strict quality control and is third-party tested and verified to ensure that each bottle meets the highest standards of purity, quality and consistency.
OMEGA 4X SX-7 BLACK ONYX IS SUPERIOR TO THE COMPETITION
Servings
Potency
Total Omega-3s
EPA
DHA
Other Omega-3 Fatty Acids, Including DPA
Full Disclosed Formula
Omega 4X SX-7 Black Onyx
100
80%
1,200mg
750mg
300mg
150mg
Competitor 1
90
70%
700mg
400mg
300mg
Not Listed