Quick Links to Best Prices Price History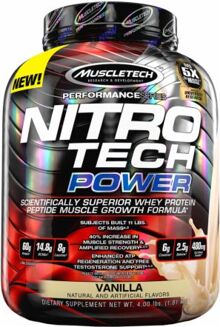 MuscleTech Nitro-Tech Power
Nitro-Tech Power
Few if any proteins have had the impact that NITRO-TECH has. For years, bodybuilders and other athletes have trusted NITRO-TECH to pack on more muscle and build more strength than regular whey protein. And now comes the latest NITRO-TECH innovation: NITRO-TECH POWER! NITRO-TECH POWER contains several key ingredients shown in multiple clinical studies to help you pack on more muscle than ever!*
Subjects build mass & increased strength!*
May enhance muscle performance & recovery!*
Assists in boosting ATP regeneration!*
NITRO-TECH POWER starts with a powerful blend of premium 100% whey protein for superior absorption, digestibility, easy mixing and high levels of essential branched chain amino acids (BCAAs) – the building blocks of muscle. MuscleTech researchers didn't stop there, though. Each two-scoop serving of this incredible new protein is boosted with clinical doses of creatine monohydrate, betaine anhydrous, boron citrate and tart cherry – creating the ultimate muscle-amplifying protein!
Delivers Ultra-Clean Whey Peptides
NITRO-TECH POWER supplies 30 full grams of the most quickly absorbed and highest biological value proteins available, including whey peptides and 97% whey protein isolate, some of the cleanest sources of protein available to athletes. Whey peptides are a powerful source of amino acids derived from much longer whole whey protein molecules. Whey peptides help promote rapid recovery from your grueling workouts and even support an insulinogenic response for supporting nutrient delivery. What's more, whey peptides have one of the highest biological values (BV) of any protein source, a value given to protein sources to measure how well they are absorbed and used by the body.