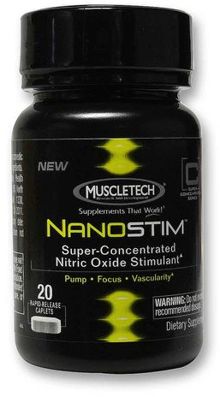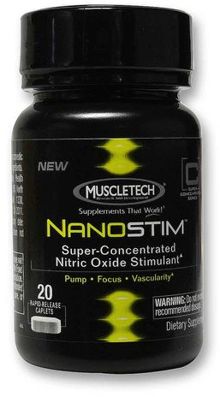 Swipe left/right to reveal product information
Super Concentrated Nitric Oxide Stimulant
NanoStim is a powerful super-concentrated nitric oxide stimulant that delivers superior muscle pumps for an incredible training experience. Unlike other companies that use scientifically inferior ingredients and hide their doses in proprietary blends, every ingredient amount in NanoStim is fully disclosed so you know exactly what you're getting. Guaranteed.
Pump
NanoStim has been formulated with a clinically studied 3000mg dose of L-citrulline to deliver outstanding muscle pumps. The formula also contains 200mg of quercetin shown in research to increase nitric oxide production.
Vascularity
NanoStim delivers an extremely potent dose of yohimbe extract, supplying both rauwolscine and yohimbine. These have been shown to block alpha-2 receptors, which can play a significant role in regulating blood flow.
Focus
Each full dose of NanoStim contains a 100mcg dose of huperzine-A. Huperzine-A has the unique ability to block the enzyme that decreases acetylcholine levels. Increasing acetylcholine levels can improve focus.
Rapid-Release Caplets
The NanoStim formula has been compressed into ultra-compact rapid-release caplets to ensure that it hits you fast.
NanoStim Frequiently Asked Questions
What can I expect to feel on NanoStim?
NanoStim is a super-concentrated nitric oxide stimulant formulated to deliver superior muscle pumps, intense mental focus and outstanding vascularity like nothing you've ever tried before. Guaranteed.
What makes NanoStim better than its competitors?
Unlike the competitors who do not disclose the ingredient amounts in their formulas, NanoStim is different. The doses of its clinically validated and scientifically tested ingredients are fully disclosed so you know exactly what you are getting and why. Click here to see for yourself.
How much research went into the creation of NanoStim?
Quite a bit. Our Research and Development and Product Development teams spent countless hours reviewing the latest research on nitric oxide metabolism and conducted multiple internal sensory and beta tests to ensure that NanoStim would deliver superior muscle pumps and an outstanding training experience. We wanted to be 100% certain that NanoStim would be the most powerful super-concentrated nitric oxide stimulant available.
Why does NanoStim come with a guarantee?
Because that's how confident we are that you're going to love NanoStim after your very first workout!
Can I stack NanoStim with other stimulants?
NO. NanoStim is an extremely powerful nitric oxide stimulant and should never be taken with any other stimulant-based products.
How do I take NanoStim?
As always, read the label carefully and follow the directions. Under no circumstances should you exceed the recommended dosage! Take 2 caplets of NanoStim with a glass of water 30-45 minutes before your workout to assess tolerance. For full effects, take 4 caplets before your workout. Do not exceed 4 caplets in a 24-hour period.