Warning: This product is not currently available at any store.
Click the button above and PricePlow will email you with updates from MuscleTech.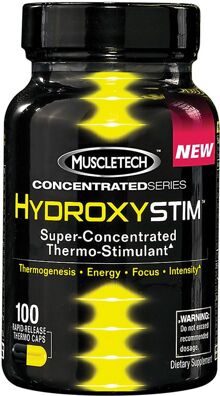 Swipe left/right to reveal product information
Super-Concentrated Themo Stimulant
Formulated with five of the purest and most potent ingredients ever seen in a thermogenic, HydroxyStim has been created to deliver a powerful neurostimulating physical experience unlike anything available on the market today. Guaranteed. Compare us to the competition right now.
Thermogenesis
HydroxyStim has been formulated with a potent and effective dose of caffeine that has been scientifically shown to stimulate a thermogenic response.
Energy
Meticulously dosed and carefully formulated, HydroxyStim delivers a surge of energy to give you a powerful boost for enhanced workout performance.
Focus
By stimulating acute mental focus, HydroxyStim quickly triggers an intense workout experience.
Intensity
With each and every dose, HydroxyStim unleashes an overwhelming physical drive that makes you feel unstoppable – in the gym, in the cage or on the field.
To ensure that HydroxyStim hits you hard and fast, the super-concentrated formula is contained within ultra-compact thermo caps to ensure rapid release and diffusion.
HydroxyStim FAQ
What can I expect to feel on HydroxyStim?
HydroxyStim is a super-concentrated thermo-stimulant formulated to deliver powerful thermogenesis, intense energy, laser-like mental focus and unstoppable training intensity like nothing you've ever tried before. Guaranteed.
What makes HydroxyStim better than its competitors?
First, unlike the competitors who do not disclose the ingredient amounts in their formulas, HydroxyStim is different. The doses of its clinically validated and scientifically tested ingredients are fully disclosed so you know exactly what you are getting and why. To see other key differences, click here To see the supplement facts, click here.
How much research went into the creation of HydroxyStim?
A lot. In fact, we invented new extraction processes for this formula just so we could ensure ingredient purity! Team MuscleTech dedicated 18 months to painstaking research and development, tested countless reformulations and product refinements and conducted internal sensory and beta testing to ensure that HydroxyStim would be the most powerful super-concentrated thermo-stimulant available. And when it hits you, you'll know why.
Why does HydroxyStim come with a guarantee?
Because we're THAT confident you're going to love HydroxyStim after your very first dose. We've meticulously formulated it with five of the purest and most potent ingredients ever seen in a thermogenic, including Geranium robertianum – an exclusive, patent-pending and naturally sourced geranium extract to deliver a neurostimulating physical experience unlike anything available on the market today.
Can I stack HydroxyStim with other stimulants?
NO. HydroxyStim is an extremely powerful thermo-stimulant and should never be taken with any other stimulant-based products.
How do I take HydroxyStim?
As always, read the label carefully and follow the directions. Under no circumstances should you exceed the recommended dosage! To assess your tolerance of this potent formula take one (1) capsule once daily for the first two days. On days three and four, take two (2) capsules once daily. On day five and beyond, take three (3) capsules once daily. Take before your workout. Drink 8-10 glasses of water daily for general good health. Read the entire label before use.