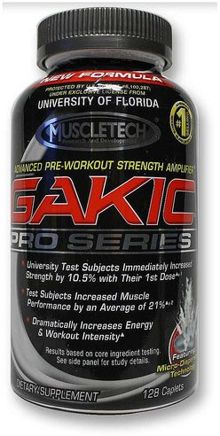 MuscleTech Gakic Pro Series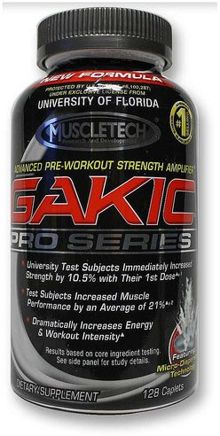 MuscleTech Gakic Pro Series
Swipe left/right to reveal product information
Gakic Pro Series is a patented pre-workout supplement utilizing Glycine-L-Arginine-Alpha-Ketoisocaproic Acid Calcium (as in the original) with added energy facilitators caffeine.
GAKIC Pro Series is scientifically engineered to neutralize fatigue toxins, such as ammonia, from your muscles. These toxins flood your muscles and grow greater with every single rep you squeeze out, consequently killing your strength.
GAKIC Pro Series is designed to help your body deal with metabolic fatigue and thus delays the moment of failure – helping you get more reps in. Powered with Nanomolecular Hyperdispersion Technology, GAKIC Pro-Series utilizes key ingredients to support strength, power and performance.
Gakic Pro Series Features:
GAKIC Pro Series dramatically increases energy for greater workout intensity
Test subjects immediately increased their strength by 10.5% with their very fi rst dose
Research backing the key complex in GAKIC Pro Series has been published in the journal Medicine & Science in Sports & Exercise
The Science Behind GAKIC Pro Series:
In a randomized, double-blind, crossover design studyconducted at the University of Florida on 13 subjects,gains in total work performance during exercise weresignifi cantly greater by 12, 9, and 11 percent at 0, 5,and 15 minutes respectively than when they used aplacebo. That's an average increase of 10.5 percentwith the very fi rst dose! In the same study, this keycomplex also improved fatigue resistance, increasingmuscle performance (force)at 0, 5, and 15 minutesby 28, 21 and 14 percentmore than when theyused a placebo.That's an incredibleaverage of 21 percent!
Gakic Pro Series FAQ
Q. Why should I buy GAKIC Pro Series instead of the competition?
A: The key complex in GAKIC Pro Series hasbeen researched at the University of Florida andthis research shows test subjects experiencedgreater gains in work performance.
Q: What are the key benefi ts of this product?
A: Increased strength with the very fi rst dose;increased muscle performance; increased energy& workout intensity.
Q: Who will benefit from this product?
A: The consumers that will benefi t from GAKICPro Series are bodybuilders and powerlifters.