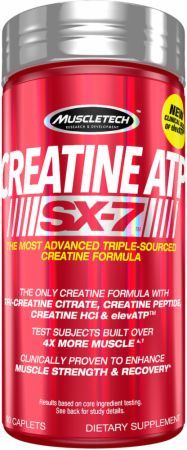 MuscleTech Creatine ATP SX-7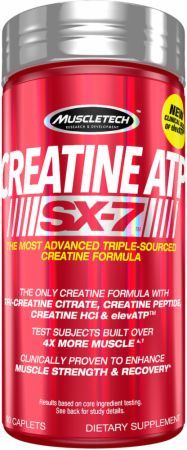 MuscleTech Creatine ATP SX-7
POST-WORKOUT
CREATINE ATP SX-7
The only creatine formula with tri-creatine citrate, creatine peptide, creatine HCl & elevATP
Test subjects built over 4x more muscle
Clinically tested to enhance muscle strength & recovery
THIS IS THE MOST POWERFUL CREATINE ON THE MARKET!
Creatine ATP SX-7 is the most advanced creatine supplement on the market today. In fact, the dose of creatine you'll find in just two servings helped test subjects gain over 4 times more lean muscle than a placebo.* Plus, you can gain strength, increase power and enhance between-set muscle recovery. This truly is a unique, never-before-seen combination of three advanced types of creatine. Make no mistake – this is not your grandfather's creatine pill! Creatine ATP SX-7 is the evolution of creatine.
HOW CREATINE ATP SX-7 WORKS
Creatine rapidly replenishes the body's ATP levels. ATP is needed for the biochemical reactions involved in a muscle contraction. As you progress through your workout, the work of the muscle increases, and more and more ATP gets consumed, which must be replaced in order for the muscle to keep lifting. Higher ATP levels allow the body to train harder and recover faster during anaerobic exercise. This will allow for bigger and stronger muscle and strength gains.*
THE MOST ADVANCED

TRIPLE-SOURCED
CREATINE FORMULA
THE MOST ADVANCED TRIPLE-SOURCED CREATINE FORMULA
THREE ADVANCED CREATINES DELIVERED IN A CLINICALLY TESTED DOSE*
Creatine Peptides
Creatine peptides are highly water soluble, and are made from a proprietary process that binds creatine to peptides isolated from whey using advanced fractionation and separation technologies.
Creatine HCl
Lastly, creatine HCl is a unique form of creatine with a hydrochloride matrix attached to the creatine molecule. This innovative, clean creatine combination was designed to deliver superior recovery between sets and unparalleled strength gains to help destroy all personal records and training plateaus.*
Tri-Creatine Citrate
In conjunction with creatine peptides and creatine HCI, Creatine ATP SX-7 is formulated with a dose of tri-creatine citrate. Tri-creatine citrate is a novel form of creatine that has been shown to increase plasma creatine levels.*
POWERFUL DOSE OF ELEVATP!
Creatine ATP SX-7 provides you with a clinically studied dose of elevATP. This unique, clinically studied combination of ancient fossilized peat minerals and a polyphenol-rich apple extract provides your cells with the edge they need to help you set a new personal best.
Researchers believe that elevATP increases mitochondrial ATP production to increase muscular energy when the going gets tough. In fact, recently published human clinical research has indicated that elevATP can increase blood and muscle ATP levels.*
SHOCKING RESULTS FROM 2 SEPARATE STUDIES!
12-Week Study
In a third-party, 12-week study involving 22 untrained test subjects divided into three groups, subjects taking the same amount of creatine found in two servings of Creatine ATP SX-7 with a weight-training program gained over 4 times more lean muscle than subjects using a placebo (7.12 vs. 1.30 lbs.)* And in a separate, gold-standard study, test subjects increased their bench press strength by an impressive 18.6% in just 10 days!*
HOW TO TAKE CREATINE ATP SX-7
Take 1 serving (3 caplets) twice daily with water. Do not exceed 2 servings (6 caplets) in a 24-hour period. As with all creatine products, maintain an adequate state of hydration during use. Read the entire label before use and follow directions provided.