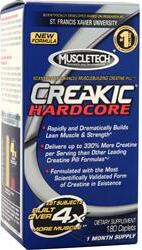 MuscleTech Creakic Hardcore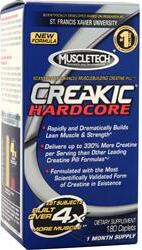 MuscleTech Creakic Hardcore
Creakic Hardcore Overview

Muscletech Creakic Hardcore is an advanced creatine formula containing optimized amounts of creatine monohydrate, creatine pyruvate and phosphocreatine AKG along with l-carnosine (beta-alanine precursor) to enhance intramuscular creatine concentrations. Just like every other Muscletech product, Creakic Hardcore is backed by scientific research supporting its effectiveness. One study showed that in a 12-week pilot program, testers using the key ingredient found in Creakic Hardcore increased muscle fiber protein content by 58% over the placebo group. Increased protein content in muscles speeds recovery, increases nitrogen retention and stimulates muscle hypertrophy. If you're looking to get the most out of creatine supplementation, pick up a bottle of Muscletech Creakic Hardcore today and experience creatine like never before!
Creakic Hardcore Description from Muscletech
Rapidly and Dramatically Builds Lean Muscle Mass
Creakic Hardcore is scientifically engineered to deliver rapid and dramatic gains in both muscle size and strength when combined with your hardcore training program. Its powerful formula is designed to saturate your muscle cells with its advanced creatine blend, which is powered by the most scientifically validated form of creatine in existence.

Delivers up to 330% More Creatine per Serving Than Other Leading Creatine Pill Formulas
Sure, there are a lot of creatine pills you can choose from, but when compared to other leading creatine pills on the market, CREAKIC Hardcore is mega-dosed with more creatine per serving - up to a massive 330 percent more! The new CREAKIC Hardcore formula is also protected by a U.S. patent.

Formulated with the Most Scientifically Validated Form of Creatine in Existence
The new CREAKIC Hardcore formulas powered by the most scientifically validated form of creatine on the planet. This key musclebuilding agent is support by countless university and independent studies to build muscle size and strength, fast.

New Formula with 100% More Creatine
Team MuscleTech researchers examined countless studies spanning the globe on creatine and muscle physiology. New CREAKIC Hardcore is engineered with Micro-Dispersion Technology for rapid release and it's loaded with 100 percent more creatine per serving than the previous formula. Get CREAKIC Hardcore now for rapid and dramatic results!
Supplement Facts
Serving Size: 6 caplets
Servings Per Container: 30
Ingredient
Amount
% Daily Value**
Creakic Hardcore Proprietary Blend (Featuring Micro-Dispersion Technology)
6208mg
-Creatine Monohydrate, 6-8-thioctic acid, ketoisocaproic acid calcium
-N (omega) phosphocreatine (creatine phosphate), alpha-ketoglutarate, Creatine pyruvate, l-carnosine
** Percent Daily Value is based on a 2000 calorie diet. Your daily values may be higher or lower depending on your calorie needs.
† Daily Value not established.

Contains Soy Ingredients.

Ingredients:
Other Ingredients: Microcrystalline Cellulose, Hydroxypropylcellulose, Coating (FD&C Blue No. 2 Lake, Polyethylene Glycol, Polyvinyl Alcohol, Talc, Titanium Dioxide, Hydroxypropylcellulose, Soy Lecithin, Polysorbate 80), Povidine, Croscarmellose Sodium, Crospovidine, Stearic Acid, Magnesium Stearate, Silica, Natural Flavor, Acesulfame-Potassium.
Manufacturer's Directions
Take 1 serving (6 caplets) of CREAKIC Hardcore with a glass of water daily. On workout days, take 1 serving immediately after your workout. On non-workout days take 1 serving in the morning upon awakening. Do not exceed 6 caplets in a 24-hour period.

Consume 10 glasses of water daily to help enhance creatine absorption, to maintain an adequate state of hydration and for general and good health. Read the entire label before use and follow directions.
Manufacturer's Disclaimer
Not intended for use by persons under 18. Do not use if pregnant or nursing. Discontinue use and consult a medical doctor if you experience unusual symptoms. If you experience a skin rash or any other allergic reaction, discontinue use and consult a medical doctor. Consult a medical doctor before use if you have been treated for or diagnosed with, or have a family history of, any medical condition, or if you are using any prescription or over-the-counter drug(s), including blood thinners. Consult a medical doctor before starting any diet or exercise program. Improper use of this product will not improve results and is not advised. Use only as directed. Do not use if packaging has been tampered with. Store in a cool, dry place (60'F to 80'F). Keep out of reach of children.