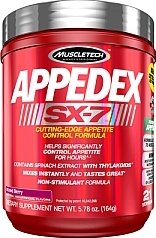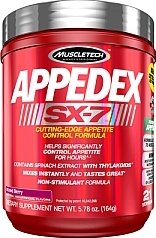 HELPS CONTROL APPETITE FOR HOURS WITH KELP FIBER
ALSO CONTAINS SPINACH EXTRACT WITH THYLAKOIDS
GREAT-TASTING, NON-STIMULANT FORMULA
CUTTING-EDGE APPETITE CONTROLAPPEDEX™ SX-7™ is an innovative non-stimulant formula engineered with 8 premium ingredients, including kelp fiber to help you control your appetite.
Appethyl™ – A unique patented, 100% pure powdered spinach extract containing thylakoids.
Camu camu (as Myrciaria dubia) – A superfruit of the Myrtaceae familynative to the Amazon forest. Camu camu naturally delivers vitamin C, flavonoidsand polyphenolic compounds.
Kudzu (as Pueraria thomsonii) – Pueraria, an Asian plant, contains keycomponents, including isoflavones and saponins.
Opuntia ficus-indica – Also known as prickly pear cactus, this popular herbal plant is commonly found in the U.S., Mexico and Mediterranean countries.
Lemon balm (as Melissa officinalis) –Contains the phenolic compound rosmarinic acid.
Mulberry (as Morus alba) – Contains polyphenols such as gallic acid.
White kidney bean (as Phaseolus vulgaris) – A legume that is widelycultivated in semitropical areas of the world and has long-standingtraditional use.
Kelp fiber (sodium alginate) – Scientific research suggests people taking kelp fiber (sodium alginate) reduced their appetite for hours after a meal.