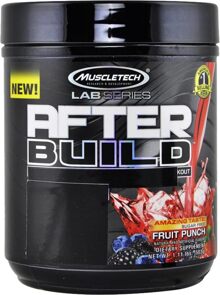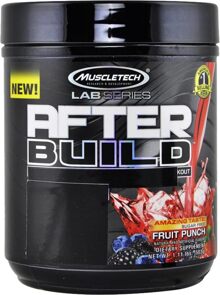 AFTER BUILD
Boosts muscle recovery and regenerates ATP stores*

Superior to regular BCAAs at building lean muscle*
FROM LAB BENCH TO GYM BENCH
WHAT MAKES LAB SERIES SUPERIOR?
Only the highest quality ingredients
Guaranteed pure protein
Fully disclosed formulas
Clinically dosed, lab-tested key ingredients
MuscleTech researchers have taken an unparalleled leap in their commitment to supplement science by partnering with the world-renowned University of Toronto – an institutional leader with a long history of innovation and research – to create the MuscleTech Metabolism and Sports Science Lab.
As part of the $58-million, state-of-the-art Goldring Centre for High Performance Sport at the University of Toronto, the new lab reaffirms our devotion to developing ingredients with extreme efficacy validated by unbiased scientific research. The prestigious University of Toronto was recently ranked in the Top 20 for overall performance as stated in the Times Higher Education World University Rankings 2013–2014 report. The MuscleTech Metabolism and Sports Science Lab features novel technologies and equipment to carry out gold-standard research on new, emerging ingredients.
As the first partnership of its kind, it is at the forefront of muscle physiology, sports performance and nutritional biochemistry. MuscleTech researchers' passion and vision to continuously research, develop and patent the most effective sports supplements in the world has led to the MuscleTech Lab Series – a complete line of advanced products that promises extreme efficacy, with key ingredients validated by scientific research. MuscleTech Lab Series is the brand you can trust for superior science and superior results.
SCIENTIFICALLY SUPERIOR FOR MORE STRENGTH & ENDURANCE*
MuscleTech Lab Series After Build is packed with 6g of 100% free-acid BCAAs – including the clinically studied 4g dose of highly anabolic leucine.
Leucine is a key dietary amino acid that has the capacity to stimulate muscle protein synthesis.* It does this by stimulating your body's master protein synthesis regulator, mTOR.* Each scoop of After Build is packed with 4g of leucine, and this 4g dose is the exact amount of this highly anabolic amino acid shown in a clinical study to help subjects increase their strength.*
This study was published in the International Journal of Sports Physiology and Performance. Read the full research paper: Ispoglou et al., 2011. International Journal of Sports Physiology and Performance. 6(1):38–50.
What's more, in a separate gold-standard clinical study, the 1g dose of taurine found in After Build was shown to improve performance in endurance athletes.*
This study was published in the journal Amino Acids. You can check out the full research paper here: Balshaw et al., 2013. Amino Acids. 44(2):555–61.
6g
BCAAs
2.5g
Betaine
3g
Creatine Mono
30
Servings
BUILD MORE LEAN MUSCLE*
Betaine is one of the most exciting muscle building compounds on the market today.* Researchers believe betaine has many mechanisms of action in the body. Betaine acts as an osmoprotectant, protecting muscle cells against dehydration by acting as an osmolyte, which increases the water retention of cells.* Research suggests that a well hydrated cell can support better anabolism and as a bonus, betaine also helps your body synthesize creatine in skeletal muscles!*
Researchers have put betaine to the test and the results are incredible – making it a must-have supplement for anyone serious about building muscle. In one gold-standard clinical study, test subjects who supplemented with the exact 2.5g dose of betaine found in 1 scoop of After Build built 3.75 lbs. of lean muscle in 6 weeks compared to 0.66 lbs. by the placebo group. What's more, test subjects actually increased arm size, as measured by a cross-sectional area (49.5 to 54.1 cm2)!
Learn more about these breakthrough studies:
Cholewa et al., 2013. Journal of the International Society of Sports Nutrition. 10:39.
Hoffman et al., 2009. Journal of the International Society of Sports Nutrition. 6:7.
IMPROVED RECOVERY & ATP REGENERATION*
Recovering quickly is critical, especially when you're training hard and pushing your muscles to their limits! Knowing how important recovery is and the importance of increasing training frequency for muscle gains, MuscleTech researchers included a full 3g of creatine in each scoop of After Build to help your muscle cells regenerate ATP.* When you increase your body's ability to supply ATP, you increase your muscles' capacity to do work and improve the energy efficiency of your muscles.*
Creatine has been extensively researched for its benefits in increasing muscle strength, power and enhancing recovery during training.* Research published in the Journal of Applied Physiology found that a dosage of 3g of creatine daily for about a month is required to saturate muscles, resulting in increased muscle strength, increased performance and enhanced muscle size.* Many recovery products include less than this ideal amount! With After Build, you get a full dose of creatine in the form of ultra-pure, HPLC-tested creatine monohydrate and creatine HCI.
After Build also features a 2g dose of glutamine to help restore plasma glutamine levels that may have been depleted after periods of intense training.*
Check out the research:
Hultman et al., 1996. Journal of Applied Physiology. 81(1):232–237.
Buford et al., 2007. Journal of the International Society of Sports Nutrition. 4:6.
FULLY DISCLOSED FORMULA WITH GUARANTEED PROTEIN CONTENT
Each bottle of MuscleTech Lab Series After Build is fully disclosed with no proprietary blends or hidden or underdosed key ingredients.
To ensure a high standard of quality and purity, and each batch of After Build undergoes strict quality control and is third-party tested and verified to ensure that each bottle meets the highest standards of purity, quality and consistency.
GUARANTEED BANNED SUBSTANCE FREE
We understand that, as an athlete, one of your key concerns is knowing exactly what you put in your body. That's why Team MuscleTech is committed to providing the highest quality scientifically formulated products that are free of banned substances, and that's why each batch of MuscleTech Lab Series After Build is guaranteed to be banned substance free, so you can rest assured you're taking only the best to be the best.
BEST-IN-CLASS TASTE
MuscleTech Lab Series researchers worked closely with industry-leading flavoring experts to constantly ensure that each high-quality serving of After Build delivers sugar-free, mouthwatering flavor that will have you craving every serving!