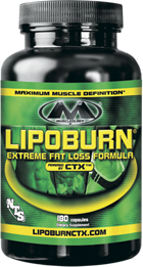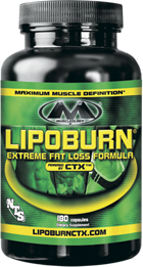 Lipoburn is a cutting edge formula that has been suggested to increase metabolic rate and improve your body's ability to burn stored fat for energy. Lipoburn is truly unique with the addition of CTX, which is a proprietary blend of one of the most stable & purest form of L-Carntine and four other compounds that facilitates one of the most Extreme fat burning and energy releasing effects available today. CTX combined with the main ingredients of Lipoburn creates an Extreme synergistic effect that is second to none, and makes it the most effective thermogenic complex on the market.
1. Yerba Mate Leaf/Green, C/S & Powder (Ilex paraguariensis)
Properties and uses: Contains a rich supply of vitamins (A,C & B complex), minerals (calcium, magnesium, iron, sodium potassium, manganese, silica and phosphorous), choline, inositol and carotene. Used in South America as a tea. Bodily influences: Stimulates the central nervous system without becoming addictive. It induces better patterns of sleep. Acts as a mild diuretic. It helps to reduce fatigue and reduces the effect of stress. Mate has been used clinically to assist those who wish to kick the caffeine habit. Although the active ingredient in mate (mateine) resembles caffeine structurally and belongs to the same class (xanthenes), mate doesn't contain caffeine.*
2. Citrus Aurantium
Citrus fruit extract contains a family of organic compounds that promotes the use of energy substrates, stimulates the metabolic processes, increases the solubility of fats, and can act as a mild appetite suppressant. The Zhi shi herb, in its natural state, can contain a mixture of these alkaloids of up to 0.6-.10%. The Citrus Aurantium formulation is much more potent at ten percent. The alkaloids in Citrus Aurantium appear to be gentler as apposed to those in Ma Huang. It is believed that the absence of these side affects and the mild nature of Citrus Aurantium alkaloids result because they do not readily pass into the brain and because they may more specifically target fat cells. The unique composition of adrenergic amines in Citrus Aurantium causes the release of adrenaline and nonadrenaline- most likely in the vicinity of Beta-3 receptor sites, which are found primarily in adipose tissue and the liver. Stimulation of these Beta-3 receptors results in the breakdown of fat as well as an increase in the metabolic rate. Zhi shi is the immature dried fruit of Citrus Aurantium, commonly referred to as bitter orange. For thousands of years Zhi shi has been used in traditional Chinese medicine to maintain stomach and gastrointestinal health. The key to Citrus Aurantium's effectiveness is its ability to stimulate Beta-3 receptors without negatively affecting Alpha-1, Alpha-2, and Beta-2 receptors. Zhi shi contains a rare composition of adrenergic amines- synephrine, N-methyltyramine, hordenine, octopamine, and tyramine. LIPOBURN contains these compounds.*
3. Caffeine Anhydrous USP LIPOBURN
Contains 200 milligrams of Caffeine Anhydrous per tablet, about the strength of 3 cups of coffee. Used to enhance mental alertness or to combat fatigue. Caffeine Anhydrous increases the level of circulating fatty acids. This has been shown to increase the oxidation of these fuels, hence enhancing fat oxidation. Caffeine Anhydrous and Cayenne Pepper have a synergistic effect when combined together. Increases thermogenesis by increasing lipolysis.*
4. Cayenne Pepper
Cayenne Pepper has some unique metabolic and thermogenesis properties thanks to capsaicin, its active ingredient. Cayenne's effect on the thermogenesis is mainly attributed to capsaicin activation of the sympathetic nervous system- stimulation of epinephrine and norepinephrine. That results in enhanced energy metabolism, more calories being used and a feeling of warmth. Cayenne Pepper can also help decrease appetite. A good dose is 25-30 mg three times a day. LIPOBURN has 40 mg per serving, which equates to 80 mg daily with two 3 capsule servings.*
5. White Willow Extract 15%
The primary active compound in the white willow bark is salicin. In the body, salicin can be converted into salicylic acid. White Willow can also serve as a source of tannins- a combination which may provide a synergistic action in elevating energy expenditure through interfering with the prostaglandin production and inhibiting norepinephrine breakdown. Although this mild effect on keeping norepinephrine concentrations elevated wouldn't be expected to significantly elevate resting energy expenditure on its own. Their effect appears to be enough, when used in combination with other thermogenic supplements, to help promote increased fat oxidation. (examples: Caffeine, Synephrine, Cayenne, Guarana, and Yerba Matte)*
6. Ginger Root
Oriental studies show that ginger increases immune response. It helps protect the gastric system by increasing the PH of stomach acid, reducing its acidity, thereby lower rate of gastric secretions, and increasing digestive enzyme activity.*
7. L-Carnitine L
Tartrate is a naturally occurring vitamin - like substance essential for the conversion of fat to energy. L-Carnitine L-Tartrate is the purest form of L-Carnitine available on the market today. 68% L-Carnitine & 32% L-Tartrate facilitates fat burning & energy release.*
8. L-Tyrosine L
Tyrosine is a direct precursor to Thyroxin, a primary thyroid hormone, as well Adrenaline and Nor-adrenaline. L-Tyrosine is a necessary amino acid in the production of neurotransmitters including epinephrine, norepinephrine, and dopamine. L-Tyrosine also appears to have a mild stimulatory effect on the central nervous system. It can also improve endurance under stress and is effective as an appetite suppressant.*
9. Potassium Phosphate (K3P04)
Potassium Phosphate is located primarily in the brain, nerve cells, blood, muscle cells, and in the intercellular fluids. Potassium Phosphate, through its antiseptic effect, is essential to ensure that the toxins produced by decay and fatigue do not become excessive, and in this way it protects the organism from tissue disintegration.*
10. Magnesium Phosphate
Magnesium Phosphate is found primarily in the brain, spinal cord, heart, liver, lungs, spleen, pancreas, kidney, intestines and in the thyroid gland, as well as in the nerve and muscle cells. The tissue salt promotes the "involuntary activity" of the cells. It regulates the spontaneous and involuntary processes. The involuntary or spontaneous activity referred to can be indicated by an example. The intestine, similar in structure to a hose, transports its contents through peristaltic movement from the stomach to the anus. If there is a deficiency of Magnesium Phosphate, the contractions of the muscle of the intestinal wall are slowed, this leads to a "drying out" primarily of the content of the rectum by intestinal villi and, consequently, to constipation. The absence of life sustaining salts other than Magnesium Phosphate can also lead to constipation.*
11. Magnesium Stearate
Magnesium is a mineral that supports bone mineralization, heart function and many enzyme systems. Magnesium is found abundantly in legumes, nuts, seafood, chocolate, green leafy vegetables, and in "hard" water. Magnesium Stearate is the form that manufactures use in vitamins. The stearate is a very inexpensive synthetic "salt". Magnesium lactate is how it is found in whole foods.*
12. Cyanocobalamin (B-12)
Cyanocobalamin is considered the most potent vitamin and is one of the last true vitamins that has been classified. Cyanocobalamin is very unusually biochemical that contains a tetrapyrrole ring system, called a corrin ring, which is chemically very similar to the porphyrin ring system of the heme compounds. Vitamin B-12 functions to provide a methyl group that is used in the synthesis of a number of products during biochemical reactions. Clinically cyanocobalamin works to promote normal growth and development.*
CANADA CUSTOMER NOTICE: Supplements containing L-carnitine can NOT be shipped to Canada due to Canadian laws. Customers in other countries need to check with their local laws.