Warning: This product is not currently available at any store.
Click the button above and PricePlow will email you when the first store has it in stock!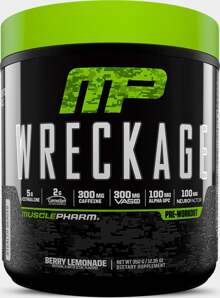 HOW HARDCORE ARE YOU?
This is no average pre-workout. Pre-Workout Wreckage is the most advanced, most hard-hitting pre-workout and is packed with only the best ingredients.* No BS "proprietary blends" here. This is the answer to getting through even the most grueling of workouts. Pre-Workout Wreckage allows you to push limits that would break the average person and those who look for a way out because it's too hard. Welcome to the hardcore lifestyle.
- NO PROPRIETARY BLENDS.
- NO ARTIFICIAL DYES.
- Science-backed ingredients.
- 6 grams of Citrulline Malate to promote increased muscle endurance and greater muscle pumps.*
- 4 grams of L-Leucine, the powerhouse essential amino acid that induces muscle growth, supports muscle fatigue and stimulates protein synthesis.*
- 2 grams of Creatine HCI to aid in strength, endurance, recovery and muscle growth.*
- 3 grams of D-Aspartic Acid (DAA), which is demonstrated to support testosterone levels within a normal range, increase strength and support metabolic function within a normal range.*
- 1.6 grams of patented CarnoSyn Beta-Alanine, clinically proven to promote the buffering of lactic acid while also enhancing performance and muscular endurance during high intensity exercise.*
- 500 milligrams of Agmatine Sulfate.*
- 350 milligrams of caffeine to heighten alertness and drive, and support muscle strength and endurance during workouts for even greater training intensity.*
- 100 micrograms of Huperzine A to increase mental focus and establish a stronger mind-muscle connection.*
- 5 milligrams of BioPerine to enhance absorption of nutrients in Pre-Workout Wreckage for optimal results.*
Pre-Workout Wreckage
Competitor One
Competitor Two
Competitor Three
Citrulline Malate
6G
Citrulline Malate
Not Included
Citrulline Malate
6G
Proprietary Blends
Leucine
4G
Leucine
Not Included
Leucine
3G
Leucine
not included
Creatine HC

l


2G
Not Included
Creatine HC

l


2G
Not Included
D-Aspartic Acid
3G
D-Aspartic Acid Not Included
D-Aspartic Acid Not Included
D-Aspartic Acid Not Included
Beta-Alanine
1.6G
Beta-Alanine
1.6G
Beta-Alanine
2G
Proprietary Blends
Agmatine Sulfate
500MG
Not Included
Not Included
Not Included
Huperzine A
100MCG
Not Included
Huperzine A
50MCG
Proprietary Blends
Caffeine Anhydrous
350MG
Caffeine Anhydrous
150MG
Caffeine Anhydrous
300MG
Proprietary Blends
Proprietary Blends
None
Includes Proprietary Blends
Proprietary Blends
None
Includes Proprietary Blends
Certified Banned Substance Free, Informed-Choice
Not Certified
Not All Lots
Certified
Not Certified
"I have dedicated my entire life to building up my body through hard work, pain, hunger and an attitude that allows me to push the limits few can! Welcome to the HARDCORE livin', brothers. This is the world we HARDCORE athletes live in, day in day out. Every day requires sacrifice, Hardcore is a mindset! How hardcore are you?"
- LIND WALTER
MusclePharm Hardcore Athlete
"I have dedicated my entire life to building up my body through hard work, pain, hunger and an attitude that allows me to push the limits few can! Welcome to the HARDCORE livin', brothers. This is the world we HARDCORE athletes live in, day in day out. Every day requires sacrifice, Hardcore is a mindset! How hardcore are you?"
- LIND WALTER
MusclePharm Hardcore Athlete