Quick Links to Our Prices Price History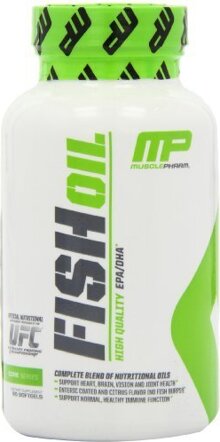 Complete Blend of Nutritional Oils
Ultra-Purified Fish Oil, High in DHA, EPA
Promotes Overall Health and Wellness*
Supports Heart, Brain, Vision and Joint Health*
Supports Normal, Healthy Immune Function*
Enteric Coated and Citrus Flavored (No Fish Burps!)
Free From Heavy Metals and Other Toxins*
Supplementation the Way Nature Intended
Essential Fatty Acids, or EFAs, are essential to the human body but can only be found in a few species of fish. Athletes supplement their diets with fish oil because research suggests fish oil's fatty acids can assist with heart function, carbohydrate breakdown and joint health. MusclePharm Core Fish Oil is tuned for those of use who hit the gym.*
Enteric Coated Citrus Flavored Fish Oil
MusclePharm Core Fish Oil uses Nordic fish oil product that is high in DHA/EPA. This essential fatty acid facilitates an overall decrease in fat and cholesterol consumption from your omega intake. Not only are these Nordic fish oil softgels a nutritional masterpiece, they are also enteric coated and citrus flavored so you won't experience the regurgitation (which are called "fish oil burps") that people associate with cheaper, cruder formulations. Our Nordic fish oil is also free from contaminants and its molecular integrity is protected so you can be assured of the utmost quality.*
High Quality Fish Oil:
Purified Nordic Fish Oil, World's Highest Quality Nutritional Oils*
1000mg of Fish Oil
500mg of EPA
300mg of DHA
Superior Ingredients, Superior Results
Why turn to a superior source for fish oil?
Like many products, the superiority of raw ingredients is important. Unfortunately, the U.S. doesn't have a set of strict criteria in place when it comes to determining the quality of fish oil. So MusclePharm took the extra steps on our own to ensure our customers receive the best.
Around the world, more relaxed testing methods increase the likelihood of peroxides, heavy metals, dioxins and PCBs in the fish oil product. PCBs, polychlorinated biphenyls, are a byproduct in the industrial development of products like engine coolants. Without strict environmental standards, more PCBs are released into the oceans and ultimately consumed by fish. International standards organizations like the Council for Responsible Nutrition (CRN) lead the world in setting the bar higher and higher for quality.
As a biological product, fish oil breaks down over time. Freshness is key. The "fishy" smell and taste in low-quality fish oils is usually the result of the maker using old raw ingredients. Besides the appetite appeal, these sources also degrade on a molecular level as time passes, which can release harmful free radicals into the end product.*
Along with raw ingredient superiority and freshness, MusclePharm takes extra steps to ensure our suppliers' manufacturing processes uphold a higher standard as well. Whether it's saturated fats or heavy metals, these impurities can be removed in the filtering process.
MusclePharm Fish Oil is like EVERY MusclePharm product: it is held to a higher standard. When you are a company of athletes, this is how you do business.