Warning: This product is not currently available at any store.
Click the button above and PricePlow will email you when the first store has it in stock!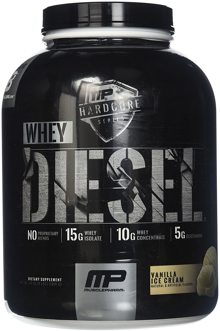 HOW HARDCORE ARE YOU?
This is no average whey protein. It is the optimum balance of 25g whey isolate and whey concentrate. Alone with these critical staples for muscle growth, we add 5g of glutamine. Whey Diesel boosts strength, adds size, and helps you recover faster.* This is the answer for getting through those grueling workouts - so you push the limits that would break the average person and anybody who looks for a way out because it's too hard. Welcome to the hardcore lifestyle.
ARE YOU READY?
- no proprietary blends
- no artificial dyes
- 25g of total protein in whey blend
- 15g of whey isolate, 10g whey concentrate
- 5g added glutamine to fuel recovery and muscle growth*
Whey

Diesel

Competitor One
Competitor Two
Competitor Three
Whey Protein Isolate
15G
Proprietary Blends
Whey Protein Isolate
7.5G
Proprietary Blends
Whey Protein Concentrate
10G
Proprietary Blends
Not Included
Proprietary Blends
Glutamine
5G
Not Included
Not Included
Not Included
Protein Analysis
All Lots Tested
Not Tested
Not Tested
Not Tested
Proprietary Blends
None
Includes
Proprietary Blends
Includes
Proprietary Blends
Includes
Proprietary Blends
Certified Banned Substance Free, Informed-Choice
Not All Lots
Certified
Not Certified
Not All Lots
Certified
"I have dedicated my entire life to building up my body through hard work, pain, hunger and an attitude that allows me to push the limits few can! Welcome to the HARDCORE livin', brothers. This is the world we HARDCORE athletes live in, day in day out. Every day requires sacrifice, Hardcore is a mindset! How hardcore are you?"
- LIND WALTER
MusclePharm Hardcore Athlete
"I have dedicated my entire life to building up my body through hard work, pain, hunger and an attitude that allows me to push the limits few can! Welcome to the HARDCORE livin', brothers. This is the world we HARDCORE athletes live in, day in day out. Every day requires sacrifice, Hardcore is a mindset! How hardcore are you?"
- LIND WALTER
MusclePharm Hardcore Athlete