Quick Links to Our Prices
How does this work and how do stores get listed? See our disclosure below to learn more. Price History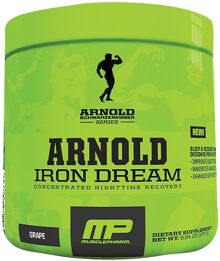 Muscle Pharm Arnold Schwarzenegger Series Iron Dream
Iron Dream Concentrated Nighttime Recovery
Supports Improved Sleep Cycles (Promotes REM Sleep)*
Maximizes Anabolic-AntiCatabolic Environment*
Enhances Deep Sleep For Maximum Growth & Recovery*
Sleep Is The Key Component For Explosive Muscle Growth
The Harder You Train, The Bigger, Stronger And Faster You Become — But You Also Need Proper Nutrition And The Correct Internal Physiologic Environment.
Sleep is the key component for muscle growth. By maximizing the body's natural muscle building window with enhancing, restful sleep, you progress forward. No one can achieve their fitness goals without it. Iron Dream is formulated to support natural levels of Growth Hormone and Testosterone production, create new muscle growth and promote recovery and repair. At the same time, it helps prevent muscle breakdown and assists with these processes during the body's ideal muscle building period... during deep, nourishing sleep.*
---
Night Growth Matrix
GAMMA AMINOBUTYRIC Acid, GABA's
GABA's effect on growth hormone coincides with the body entering R.E.M. sleep. It can profoundly alter body composition, indirectly supporting muscle growth.*
Horny Goat Weed
Aids in sexual health and natural hormonal balance. This fact is true for both men and women.*
Macuna Pruriens
May support natural testosterone production through inhibiting prolactin, which thereby increases the body's luteinizing hormone (LH) levels.*
Melatonin
Melatonin is a power antioxidant. Taking melatonin before bedtime promotes sleep and relaxation. It can help reduce oxidative stress, improve defenses and lipid metabolism.*
---
Muscle Recovery Matrix
L-Glutamine
Works to help reduce catabolism to support a muscle building environment. At the same time, L-Glutamine minimizes muscle catabolism, which supports a healthy immune system.*
BCAA Nitrate
Branched Chain Amino Acids fuse with nitrate creating greater BCAA stability and more efficient transportation due to nitrate enhancing permeation. The gut absorbs nitrate-bound amino acids more effectively.*
Fenugreek
Can provide added support for sexual health. Also, along with maintaining healthy testosterone levels, it can aid with increasing muscle strength, energy, and overall well-being.*