Quick Links to Best Prices Price History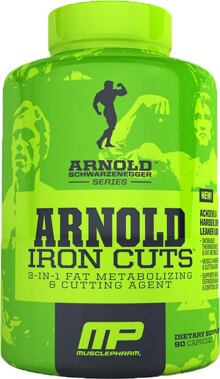 Muscle Pharm Arnold Schwarzenegger Series Iron Cuts
Iron Cuts 3-in-1 Fat Metabolizing & Cutting Agent
Increased Thermogenesis & Fat Metabolizing*
Muscle Hardening & Sculpting Agent*
Supports Healthy Estrogen Balance & Cortisol Levels*
---
Advanced Thermogenic & Cutting Agent For Males*
Iron Cuts Is A 3-In-1 Fat Metabolizing And Cutting Formula Containing Precise Ratios Of Active Ingredients To Support Optimal Levels Of Testosterone, Estrogen And Cortisol—Ultimately Delivering That Harder, Dryer, Leaner Look!*
Our advanced thermogenic and cutting agent was formulated for males to help support a lean muscle building state while creating a ripped appearance.*
---
Burns Fat Quickly Creating a Ripped Apperance*
The combination of ingredients in Iron Cuts helps to stimulate fat burning while protecting the internal environment that nurtures lean muscle. This reduces muscle catabolism (muscle breakdown) and supports muscle anabolism (muscle growth)*—a novel approach to fat burning offering significant benefits.*
---
Are Estrogen And Cortisol Holding Your Body Captive?
The infamous estrogen bloat and cortisol love handles plague nearly every physique. These aren't minor and are caused by many things, you need to do more than tweak your diet or training to counteract these hormonal imbalances. The truth is, an imbalance of estrogen and cortisol can nearly destroy a physique. Hormonal imbalances affect cortisol levels by instructing the body to break down muscle tissue and increase visceral adipose tissue (the solid belly fat, most of us have it), destroying your hard-earned gains from the gym.*
Abdominal fat Is nearly impossible to lose especially when cortisol levels remain high. The correct baseline levels and hormonal balance of estrogen, testosterone and cortisol are vital for achieving that hard, lean look. Iron Cuts' precise ratios of actives help support a healthy hormonal state (muscle building state) and support the healthy testosterone/estrogen balance to promote a dry, hard-looking physique. So now you know. You can't use these as your excuse for not having "washboard abs".*
---
As We Know, Testosterone Is Both Androgenic And Anabolic.
The androgenic component of testosterone helps with a male's overall sense of well being, sexual health and other key characteristics. The anabolic aspect of testosterone helps with protein synthesis and cell growth, which yields increased muscle mass, strength. As you wear and tear your muscles, the key to minimizing this damage is optimizing your recovery. Testosterone's anabolic activity supports muscle repair and growth, protecting your gains. Iron Cuts supports the body's natural testosterone production, stimulating protein synthesis via multiple biological pathways while minimizing any androgenic side effects. This formulation is the ideal natural option for protecting your workout gains while achieving a ripped appearance.*