Warning: This product is not currently available at any store.
Click the button above and PricePlow will email you when the first store has it in stock!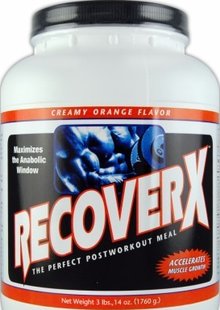 Breakthrough research in exercise metabolism
now reveals this fact: What you consume (or more likely, don't consume) immediately after training plays a critical role in determining your success or failure! That time period is known in scientific communities as the "anabolic window" or the "nutritional window of growth." Anabolic refers to the building-up part of metabolism.
The best way to produce this anabolic effect is simply by drinking an amino acid-and-carb supplement within fifteen minutes after training!* Your body devours the essential amino acids during this "nutritional window of growth."* Recover X offers the ideal combination and provides the ideal blend of nutrients for post workout anabolic acceleration.*
Recover X contains 40 grams of quick-acting bio-available protein from hydrolyzed whey--extremely fast protein for immediate delivery--whey protein concentrate, glutamine peptides and arginine.*
In addition, Recover X contains 60 grams of carbs to give you the necessary insulin spike.* Arginine helps force more glycogen storage--more strength, larger muscles.* With its 2 grams of arginine this post workout shake can give you a 30 to 40 percent improvement in glycogen storage.*
And Recover X also contains 100 milligrams of Methoxyisoflavone, a nonsteroid compound that has many of the positive effects of anabolic steroids but without the negative characteristics.*
Methoxyisoflavone has no estrogenic activity, no carcinogenic or teratogenic activity and, finally, no chronic or acute toxicities.*