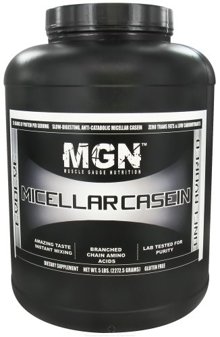 Muscle Gauge Nutrition Pure Micellar Casein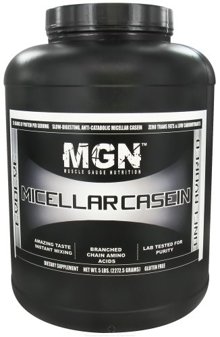 Muscle Gauge Nutrition Pure Micellar Casein
Muscle Gauge Micellar Casein Facts:
22g Protein per Serving
Slow Amino Acid Release
Anti-Catabolic Effects*
High in Calcium
Promotes Feeling of Fullness*
Low in Fat and Carbs
Micellar Casein is a slow digesting protein filtered from milk that continues feeding the muscles after whey proteins have been fully digested. The slower absorption allows for more ideal net protein balances in the body by sustaining elevated amino levels.*
Many athletes will take whey protein before they work out, during a workout session and quite naturally during the post workout period. With Micellar Casein it is recommended that you take it at night before sleep, thus giving it time to absorb in the body. The Muscle Gauge Micellar Casein will stay in your body longer than that of other leading brands, and only has 95 calories per serving compared to Optimum Nutrition's 120 calories per serving.
This muscle gauge product is top of the line, and you even get more bang for your buck with more servings in a container than that of Optimum Nutrition. Muscle Gauge Casein continues working on promoting lean muscle mass long after you have finished your workout. In the case of Micellar Casein, slower is better, and Muscle Gauge has it in refreshing flavors and at a price that's sure to beat the rest.