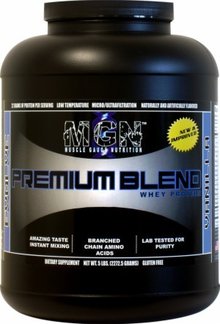 Muscle Gauge Nutrition Premium Blend Whey Protein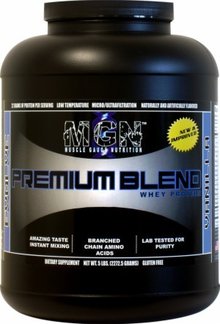 Muscle Gauge Nutrition Premium Blend Whey Protein
Micro/Ultrafiltration Whey Protein Rich is Branch Chain Amino Acids
Muscle Gauge's Premium Protein Blend is the gold standard of protein supplements because this protein blend tastes so unbelievably good, delivers all the punch and wattage of the whey protein isolate, is value priced, and provides a quality amino acid profile. We can assure advanced filtration, entirely cold processing, an optimal ratio of isolate to concentrate, and like all of our other protein products, the guarantee of only the finest quality un-denatured protein. Fully loaded to build lean muscle and strength quickly, each serving of this advanced whey blend formula contains 22 grams of pure protein and only 1 gram of carbohydrate. Every sip of this protein blend is power packed with biologically active micro-fractions, delivering the full range of amino acids to feed your muscles.
Not only does Muscle Gauge Premium Blend deliver the nutrients you need to grow, it also delivers on taste and mixability. The Premium Blend has been instantized to dissolve quickly into cold water or milk. Using a spoon, shaker, or blender, you can quickly mix up a smooth lump-free protein shake! Whether you're a bodybuilder or any other elite athlete, or just someone who wants more lean muscle mass, Muscle Gauge Premium Blend has the nutrients your body needs to grow, and the taste you need to enjoy your shakes!
Premium Blend Whey Protein Facts:
• 22g protein per serving!
• 28.4g serving size
• Quality amino acid profile and BCAAs
• Maximum Nitrogen retention while enhancing muscle growth
• Quality protein for lean muscle growth and loss of body fat
• Supports muscle repair and recovery
• Speeds muscle building and mass
• Low fat
• Gluten free
• No trans fats
• Tastes great and mixes easily!

Supplement Facts
Serving Size: 1 Scoop (30g)
Servings Per Container: 76
Amount Per Serving
Calories - 120
Calories From Fat - 9
Total Fat - 1g
Saturated Fat - <0g
Trans Fat - 0g
Cholesterol - 0
Sodium - 80mg
Potassium - 240mg
Total Carbohydrate - 4g
Sugar - 2g
Protein - 22g
Vitamin A
Vitamin D
Calcium
Riboflavin
Phosphorus
Vitamin C
Typical Amino Acid Profile
Alanine
Arginine
L-Aspartic Acid
Cysteine/cystine
Glutamic Acid
Glycine
Histidine
Isoleucine
Leucine
Lysine
Methionine
Phenylalanine
Proline
Taurine
Serine
Threonine
Tryptophan
Tyrosine
Valine
Other Ingredients: MGN Protein Matrix (Pure Whey Protein Concentrate, Pure Whey Protein Isolate, Whey Peptides), Natural And Artificial Flavor, Xanthan Gum, Sucralose

Directions
Add one level scoop to 8 oz. of water, nonfat milk, juice, or your favorite beverage. You can use more or less liquid to meet your desired taste and calorie needs. Shake well in a shaker until dissolved. Muscle Gauge Nutrition can be added to any food, including yogurt.