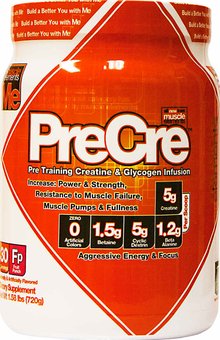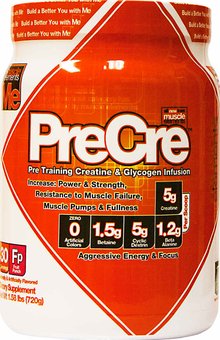 PreCre by Muscle Elements is one of our favorite pre-workouts on the market, and comes with an impressive 5g of creatine to boot. If you're looking for a pre workout to give you a huge pump and help you build muscle in one true scoop, look no further!
We'll break it down in greater detail below, but there's two key things to know about it:
The creatine content is effectively dosed at 5g per serving - no more guesswork as to whether you need more or not!
Each scoop has 244mg caffeine, making a true one-scoop experience
It has 10g of carbs per scoop and uses nutrient partitioners to drive those carbs into your muscles for a fantastic new form of pumps.
Sadly, giving you enough creatine to actually show an effect is a big deal in today's marketplace, simply because so many products aren't bothering to do it. Not Muscle Elements!
Adequate carb content is equally important, however. Carbs have fallen by the wayside in pre-workout products over the years, and it's been so long since good products have been dosed with them that some users may have forgotten what a proper "carb pump" feels like!
Also worthy of note here is the new PTS-SURGE formulation, which acts as a nutrient partitioner to help facilitate the carbs. Between that and the other NO boosters in this mix, you're looking at one of the most ridiculous pumps in your workout career!
Before we get into the ingredients, let's take a look at our PreCre Review:
PricePlow's PreCre Review
---
Ingredients
GlycoPump Infusion Elements

Cyclic Dextrin (5000mg)

Also commonly called Highly Branched Cyclic Dextrin (HBCD), this carb source been shown in a series of studies to speed up the rate at which glucose is processed into energy.[1,2] The brilliant thing about it is that it does this without creating major insulin spikes. Not only is this helpful in not developing adult-onset diabetes, but it also allows the glucose to be parceled out in a slower and more measured way for sustained energy.

Modified Glucose Polymers (5000mg)

Is a fancy name for maltodextrin, a carb source that is essentially a sugar that gets taken up by active muscle tissue the fastest. This is the other half of your carb content along with the HBCD.

PTS-SURGE (100mg)

This is where the carb pumps really get interesting.

PTS-Surge is a proprietary form of grape seed extract, standardized for proanthocyanidins. A few studies have shown that these polyphenols can reduce oxidative stress while also improving nitric oxide levels, as well as acting as a glucose disposal agent to more effectively turn carbs into energy used by muscles.[3,4]

PTS-SURGE is 40% proanthocyanidins, so keep in mind the actual dose of them is 40mg.

Tri-Cre Power Composite Elements

Before we begin, let us say that there is 5g of creatine here, and that's ultimately what matters. We'll take it however we can get it, but we most trust creatine monohydrate, since it has literally over 100x more proven research than any other form of creatine.

In this blend, we have 4g creatine monohydrate, 1g creatine hydrochloride.

Creapure (2000mg)

Is the most famous and most trusted form of creatine on the market, and it's in the upper echelon of trusted supplements. It's fundamentally just creatine monohydrate, which is the industry standard form and the one most generally recommended. Creapure is simply micronized to improve uptake and make it easier to drink and mix.

Creatine monohydrate (2000mg)

In addition to Creapure, there's an added 2000mg of extra creatine monohydrate, presumably not micronized. We're pretty sure you're on board the creatine train already if you're reading this, but if not, it's one of the most well-studied ingredients in supplements and is one of the most sure ways to see improved gains.[5] But that's provided you take at least three grams per day, and the ideal amount to match study results is five grams, which is why the dosing is so important.

Creatine HCL (1000mg)

This is here as a diversity mix, and possibly for marketing label purposes than any kind of a meaningful improvement on basic creatine monohydrate. It's possibly more bioavailable than monohydrate, but it's so new that this claim hasn't been adequately studied yet. But hey -- in the end, it's another gram of creatine. That gets you to five grams total, the amount you want to be sure you're seeing maximum benefit from it.

Intracellular Capacity Amplifier Elements

Betaine HCL (1500mg)

Also known as trimethylglycine, betaine has a bunch of good studies backing its ability to increase power output during workouts. It may also provide a nitric oxide boost, though those results are much more mixed in studies of humans.[6]

The clinical dose is at 2.5g, which is where the muscle-building benefits reign. However, it possibly works similar to creatine, so we're not sure how much is really needed alongside the 5g creatine. 1.5g sounds like a great place to start.

CarnoSyn Beta Alanine (1200mg)

Beta alanine is another scientifically proven endurance enhancer.[7] The primary function is to remove built-up lactic acid from the muscles, which is what causes feelings of fatigue.[7]

The clinical doses are at 3.2g, so if you want to get the full endurance benefits, you'll need to get more in bulk elsewhere.

Creatinol-O-Phosphate (500mg)

Also known as COP, creatinol-o-phosphate is a newer supplement ingredient that appears to have similar effects to that of beta alanine.[8] It does need more study in humans before that can be declared conclusive, however.

Taurine (500mg)

Yet another well-researched industry standby ingredient that draws hydration to muscle tissues and has the ability to enhance exercise performance.[9]

We love taurine, except when it's used to mask other ingredients inside of proprietary blends (because it's relatively cheap). With the case of Muscle Elements and PreCre, you don't have to worry about that - this is a 100% open formula!

Mind-Muscle Activator Elements

N-Acetyl Tyrosine (500mg)

Also abbreviated to NAT, this is the amino acid L-Tyrosine in a formulation that stabilizes it for shelf life. This supplement was the star of a series of military tests for improving focus and reducing both the effects of stress and blood pressure, and ever since it's become a fairly common pre-workout nootropic ingredient.[10]

Caffeine Anhydrous (200mg)

At this point, you should know what caffeine does for you. It is basically a mandatory energy ingredient for a stim-based product. The dosage here is just a touch over two cups of coffee.

Note that while there's 200mg of pure caffeine anhydrous here, the next ingredient adds another 44mg caffeine.

Guarana Extract (200mg)

This is essentially an alternative form of caffeine that has less of an immediate impact. Its inclusion along with caffeine effectively ensures this will be a true one-scoop product, unless your tolerance for caffeine is totally through the roof![11]

Disodium, dicalcium and dimagnesium phosphate

Your "hydrating" electrolytes.

DMAE (150mg)

A cognitive enhancement ingredient starting to appear in pre-workout products. Early studies have shown cognitive improvement in patients.[12]
To sum it up - Muscle Elements Pre Cre is a beast, and is 2015's must-try pre workout supplement!
Compare prices below and save money at PricePlow!
---